&nbsp→ News → 10 Years in the Gaming Industry and Anime Expo 2023 Announcements
News
10 Years in the Gaming Industry and Anime Expo 2023 Announcements
Published on July 6, 2023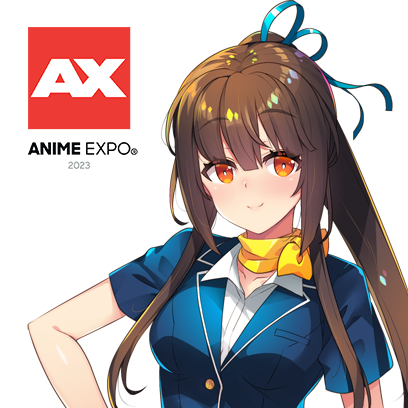 As we gather at Anime Expo 2023, it's a moment of reflection and celebration for us at Sekai Project. We're commemorating a decade of success in the gaming industry, a journey that began on May 6, 2013, in Los Angeles, CA.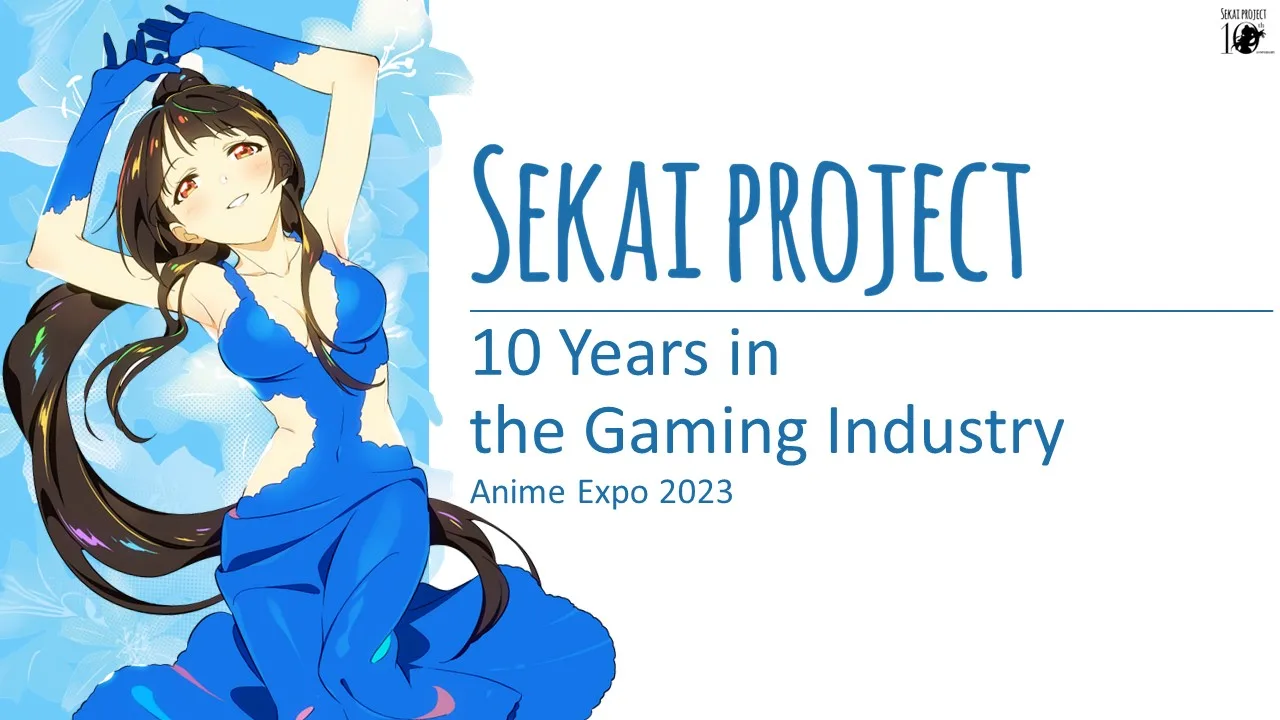 Our first kickstarter project, the "Moe Headphones Design Guidebook 2013," was funded in 2014, marking the start of our venture into the world of crowdfunding. The same year, we launched our first game, "narcissu 1 & 2," which was also our first release on Steam.
Over the years, we've expanded our portfolio significantly. On Steam alone, we've released over 140 games, 45 soundtracks, and 30 DLCs. Our presence has also grown on the PlayStation Store with 14 game releases and on the Nintendo eShop with 10 game releases.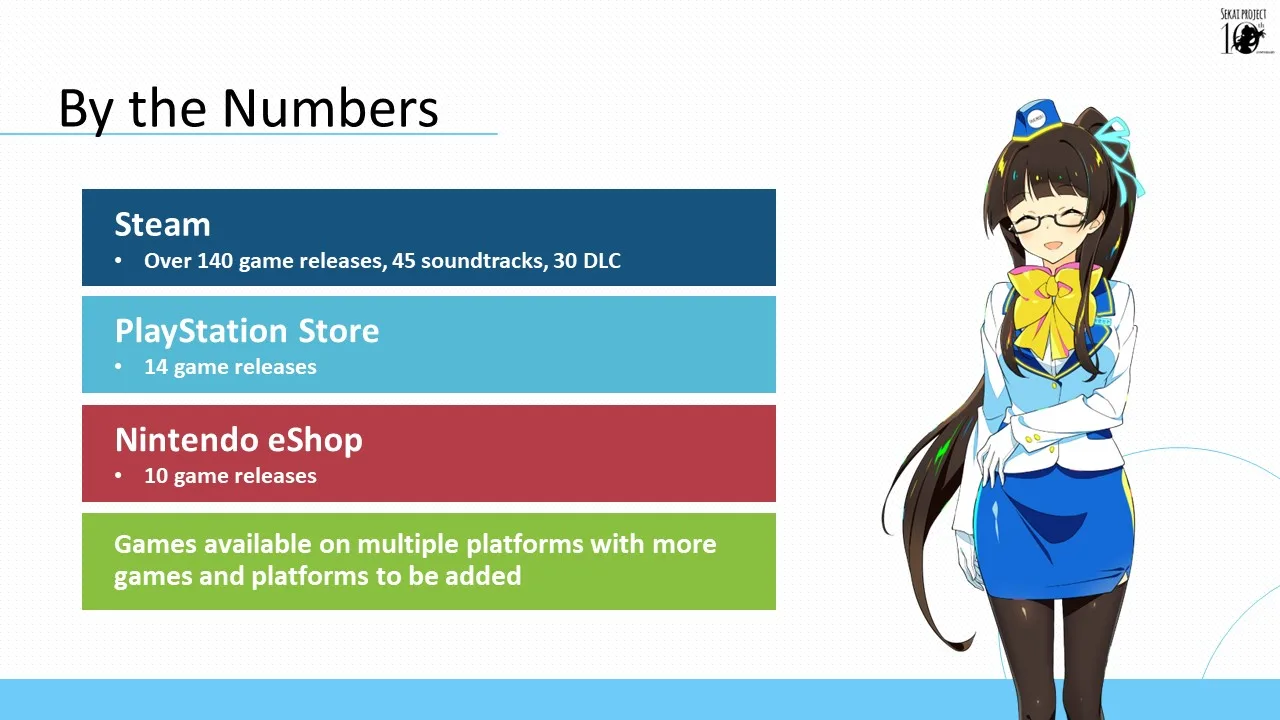 Our journey has not been without its challenges. We've learned valuable lessons from our 21 successful Kickstarter campaigns and 2 Indiegogo campaigns. Our NEKOPARA Anime OVA crowdfunding campaign was the most funded animation project in 2017, raising over $960,000 USD.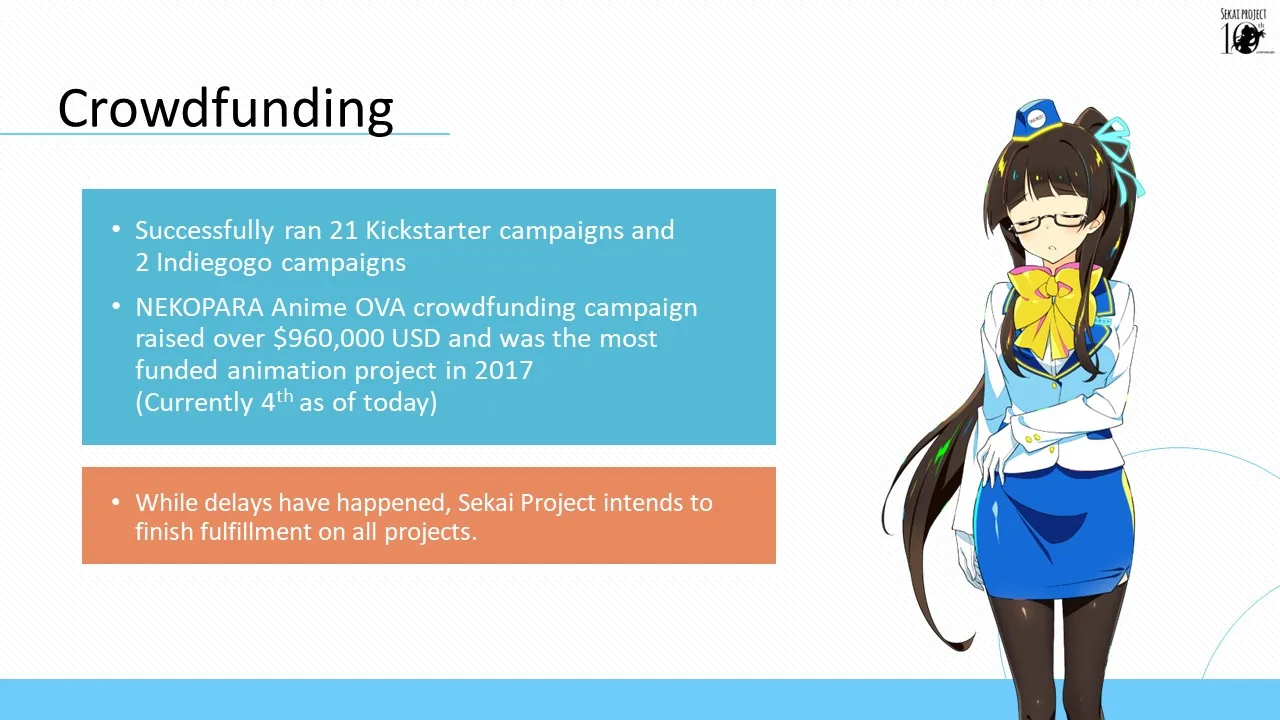 We've also funded over 30 game titles, providing more than $350,000 USD to developers in the form of grants and royalty advances. We're always open to new publishing requests, and we're proud to have seen games like M.A.S.S. Builder and Mahou Arms pay back their advances almost immediately.
Our success is reflected in our numbers. We've generated over $61 Million USD in Lifetime Revenue, sold over 13 million games, and raised $1.1 Million USD in the 2017 Humble Sekai Project Bundle. Our top sellers include the NEKOPARA series, CLANNAD, and M.A.S.S. Builder.
Our games have a global reach, available in English, Chinese, and Japanese. We have a significant user base in Asia (42%), North America (31%), and Western Europe (14%). We're always considering emerging markets and other languages for future licensing, guided by our user data.
So that's the end of our numbers. Did you want more information or more details? Tweet at us or contact us directly and we may add it in a future blog post!
We're excited to share some of our latest updates and announcements.
At Anime Expo 2023, we're released the Sekai Project 10th Anniversary Book, a 32-page, full-color book featuring the history of Sekai Project and a collection of Sena artwork by several international illustrators. We will have it available on our web shop soon so stay tuned!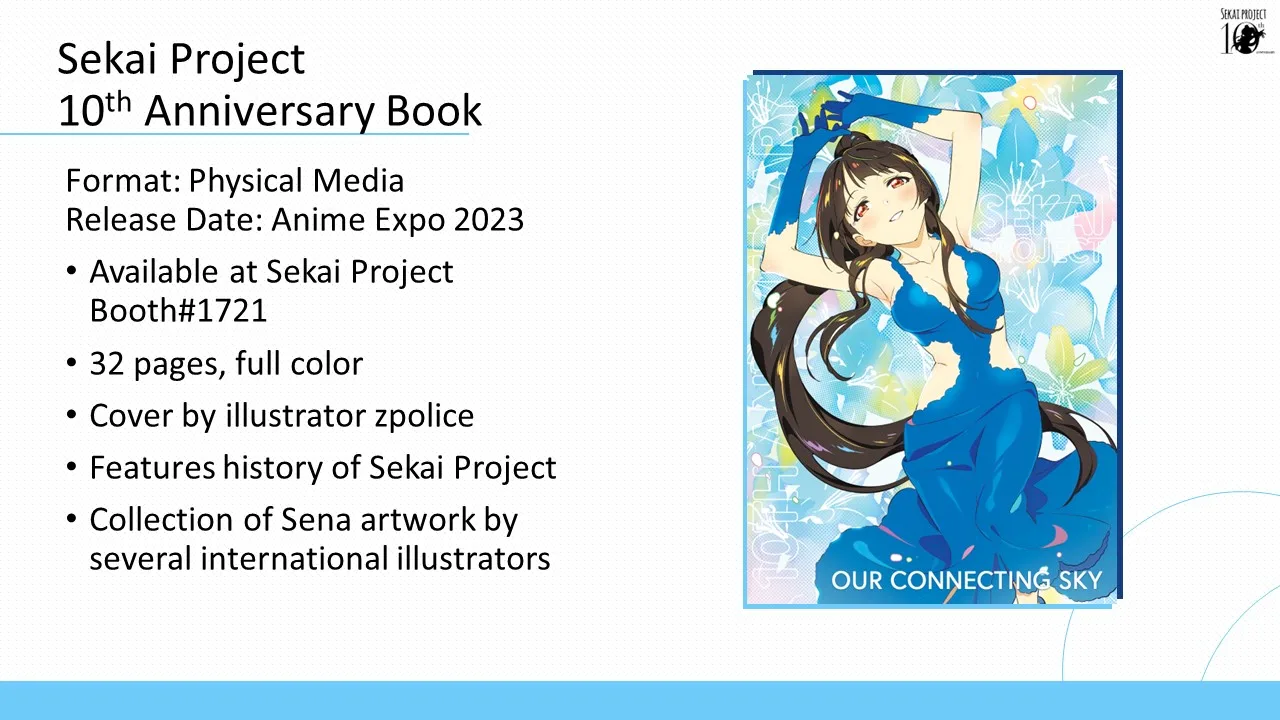 We're also thrilled to announce the upcoming releases of several games:
Alice Escaped!" by illuCalab for Nintendo Switch and PlayStation 4, set to release in Q3 2023.
"HAPPY SAIN† SHEOL" by 122pxsheol for Steam, set to release in Q4 2023, with a demo releasing in Q3 2023.
Now for some new announcements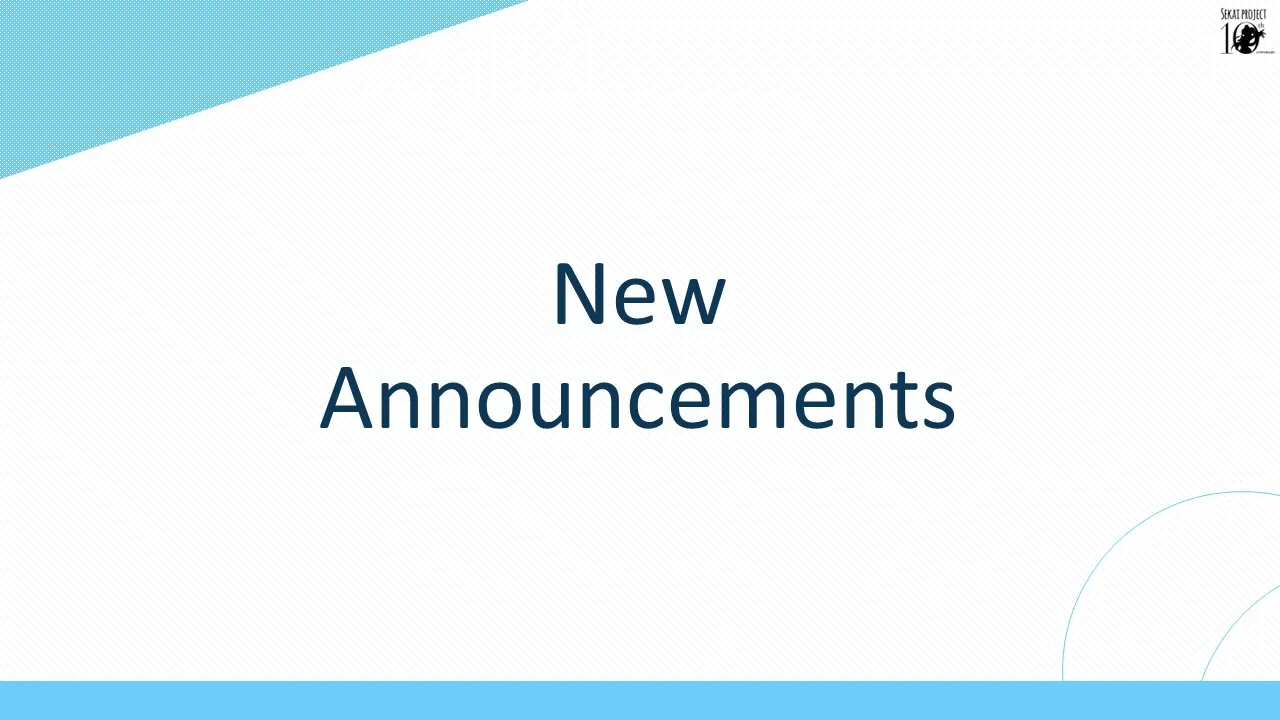 We're also launching a 4-panel comic series, "Sena's Quest," featuring Sekai Project mascot, Aozora Sena, and her friends. More details will be coming soon.
"LOOP LOOP ROOM" by Desunoya for Steam, set to release in Q3 2023.
For the NEKOPARA fans, we're starting a campaign on July 3, 2023, for NEKOPARA Chocola and Vanilla plushies, manufactured by Makeship.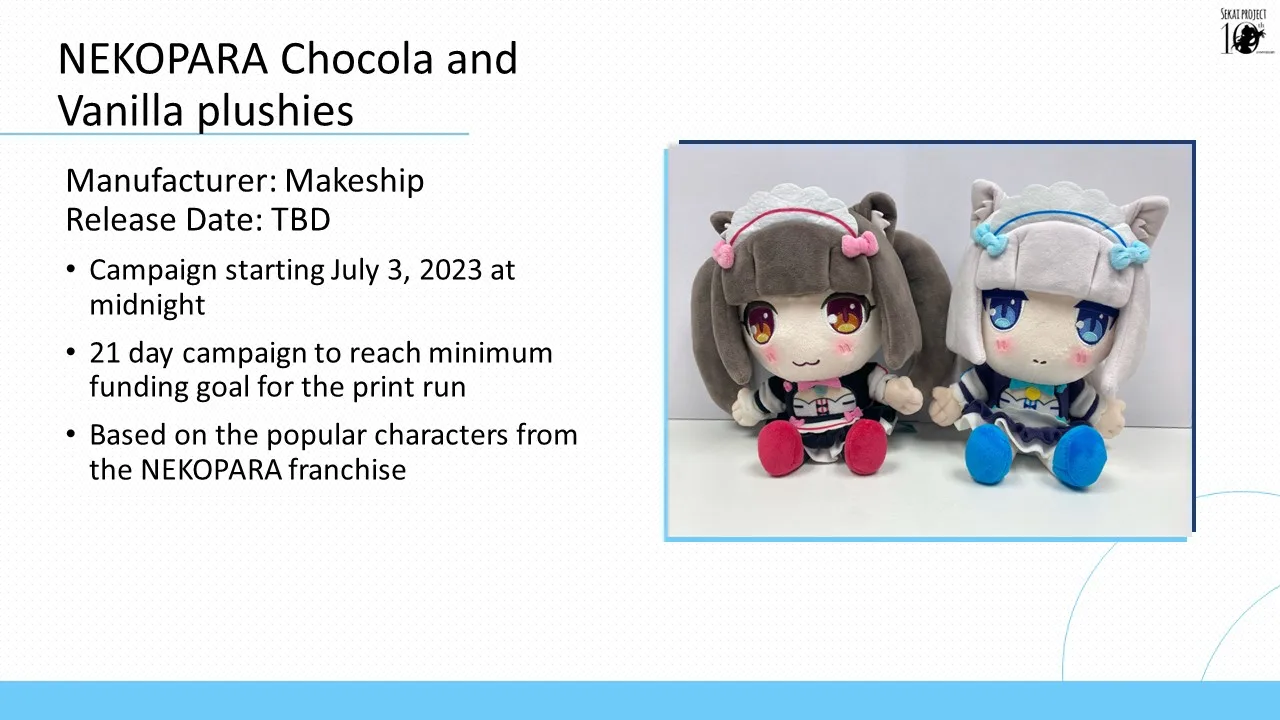 https://www.makeship.com/products/chocola-plush
https://www.makeship.com/products/vanilla-plush
Finally, we're excited to announce that we're porting the NEKO-NIN exHeart series to the Nintendo Switch, with UI/UX updates. The first game is set to release in Q4 2023, with the rest of the series to follow at a later date.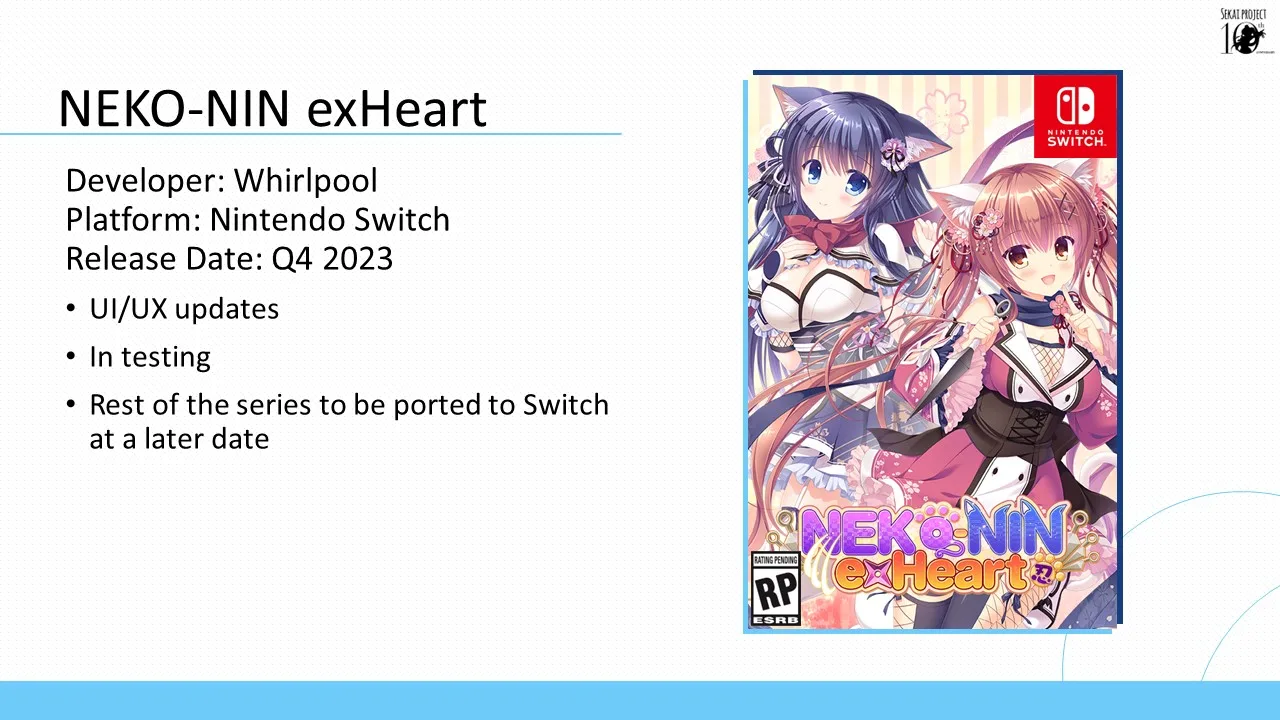 We're also working with whirlpool on a new game, "NEKO-NIN exHeart SPIN!" for Steam.
As we celebrate our 10th anniversary, we want to express our gratitude to our fans, developers, and everyone who has supported us on this journey. We're excited about the future and look forward to continuing to bring you exciting new games and projects. Here's to the next decade of Sekai Project!