&nbsp→ News → Anime Expo 2019 Announcements!
News
Anime Expo 2019 Announcements!
Published on July 9, 2019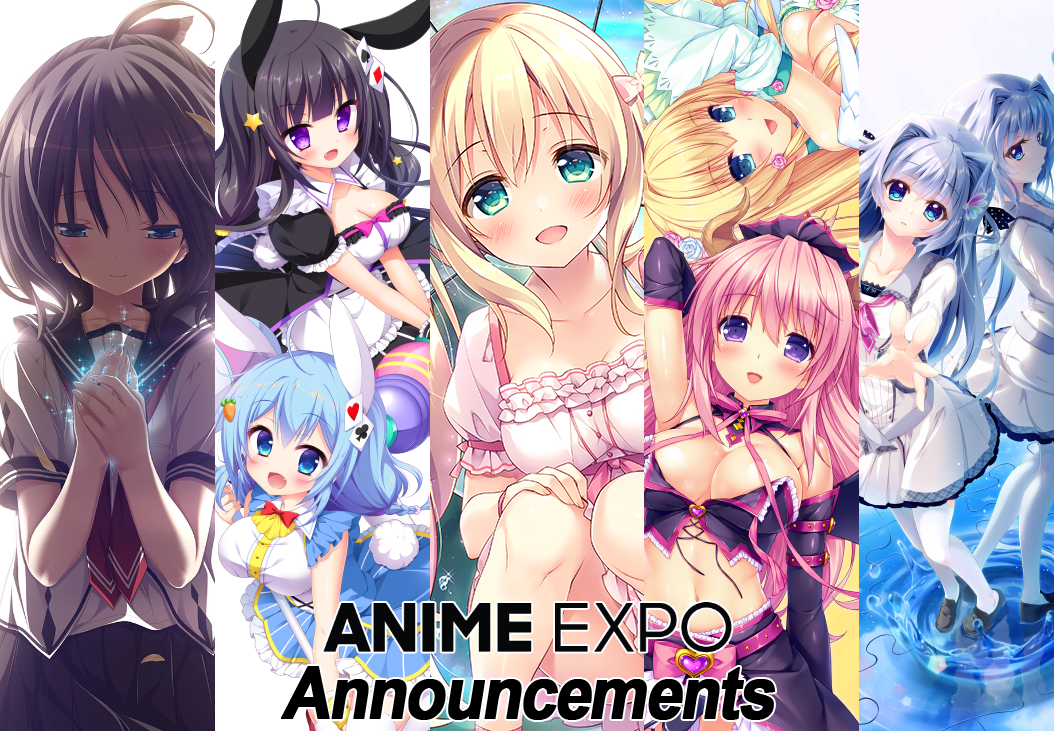 We're excited to let you know more about what we announced at Anime Expo! Let's get started with that now!
New Announcements!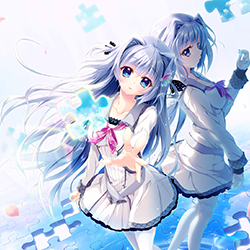 Title: 9-nine- Episode 3
Developer: PALETTE
First up we have 9-nine- Episode 3! Translation and editing are planned to start soon. And here's a small update for Episode 2: We're still in the process of QAing and bug fixing. Once that's done you'll be able to play Episode 2 very soon!
Shiromitsugawa City: an academic city with no other particular features.
A large earthquake hits the city, damaging the sacred treasure in the Hakuda Tsukumo Shrine, and causing strange items appear from a parallel world. These "artifacts" grant strange powers to their owners, with incidents of an owner abusing their powers and turning people into stone.
Having learned of the item that causes this petrification, the "Evil Eye Artifact", Niimi Kakeru teams up with his classmate, Kujou Miyako, and his sister, Niimi Sora, to investigate and put a stop to the culprit.
During the investigation, they find themselves at odds with "Rig Veda", an organization of artifact users. Among their members, they spot their upperclassman in school, Kosaka Haruka.
9-nine-: Episode 3 is the latest chapter in this series of supernatural mystery visual novels with the focus now shifted towards a new heroine, Kosaka Haruka.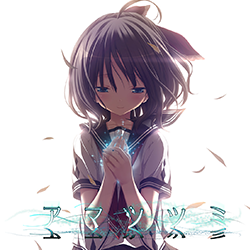 Title: Amatsutsumi
Developer: Purple Software
Our next announcement is Amatsutsumi! We're pleased to be working with Purple Software again to bring you this amazing title. We're currently still in the translation and editing stage for this one!
Our hero, Makoto, possesses the power of "kotodama" which allows one to control people with the power of one's voice.
Having an interest in the outside world, he leaves the hidden village he has lived in all his life. However, he found himself woefully unprepared and collapses on the side of the road in a small town almost as remote as his village. Just as he's resigned himself to death, he's saved by Oribe Kokoro, a girl whose family runs a cafe in that town.
Using his kotodama powers, Makoto becomes a part of the Oribe family and begins attending school with Kokoro. He soon meets several girls who each have their own special circumstances. Will Makoto be able to use kotodama to help these girls? And what is the true nature of kotodama?
This is a story of the words that weave the ties that bind…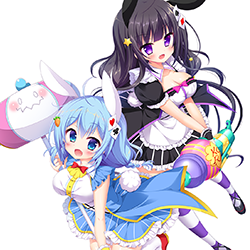 Title: Alice's Escaped!
Developer: Illucalab
It was the end of summer vacation.
In order to finish up their homework, Usada and Kotora come upon an old library. However, though she was hardly done with her homework, Usada came across a massive book with a mysterious aura to it. A piece of paper fell out and on it were the words "Find Alice."
"Alice…?"
The moment they looked at each other, a bright light shot out of the book and engulfed the two of them.
When they opened their eyes, they found themselves in an unknown world. They also noticed that they wore cute and frilly dresses now.
Suddenly, they both saw a mysteriously rabbit like creature dart through the grass in front of them.
"I bet it knows something about all this!"
Gripping their weapons, the two of them journey through this Alice in Wonderland-like world and give chase.
Alice Escaped! is a platoon style Metroidvania action game which follows the adventures of Usada and Kotora as they chase after Alice. Despite it's cute looks, this is a game that's bound to challenge both newcomers and veterans of the genre alike. Alice Escaped! is a collaboration between game studio Illucalab and character designer PICPICGRAM.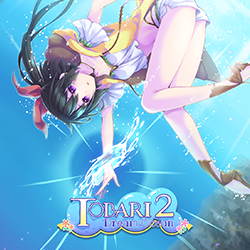 Title: Tobari and the Mysterious Sea of Dreams
Developer: Desunoya
Tobari is back in the latest action platformer from indie developer, Desunoya. Use that staff and smack around your enemies for their magic as you traverse the Dream Ocean. Seek out the mysterious voice that calls to you from beyond the sea as you journey with Tobari into this unknown new world.
Utilize over 30 types of magic and explore different stages with their own fair share of challenges. Have a fear of falling into pits? There's even an Easy Mode that allows you to return to a moment before in the game.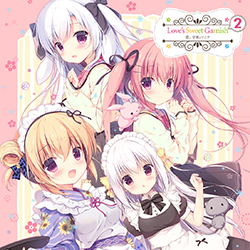 Title: Love's Sweet Garnish 2
Developer: Canvas + Garden
If you liked Love's Sweet Garnish then you'll be pleased to know that the translation for Love's Sweet Garnish 2 has started! This one features routes for the other two heroines Ciel and Koron as well as gives some love to Richer and Rira.
Months after the reopening of the cafe, Milk Hall Caramella, the season now shifts to summer. It is a time that is much loved by the people who live in this town. Thanks to promotion from magazines and television, the cafe becomes very popular.
With a need for more staff, soon underclassmen Ciel and Koron have come to help out at Caramella as well.
With everything going on, our hero Asaki's grandmother gradually becomes well again and is able to visit the cafe after it's reopening. She is deeply moved by the bustling business inside the cafe. It's at that moment that she approaches Asaki to not simply continue to run the cafe for her but to formally have him be the successor to the cafe.
No longer unsure of what to do, Asaki is steadfast in his goal to protect Caramella.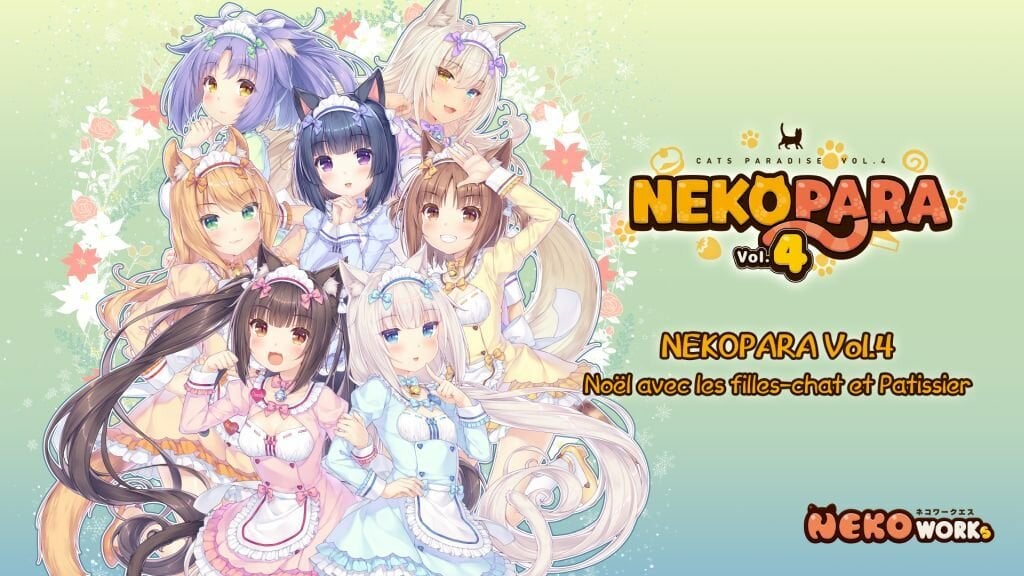 Title: NEKOPARA Vol. 4
Developer: NEKO WORKs
Look forward to more from the NEKOPARA series in NEKOPARA Vol.4! We'll have a description to share later!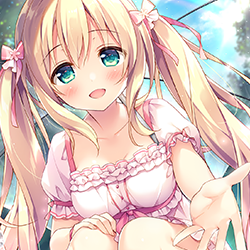 Title: The Seventh Sign -Mr.Sister-
Developer: Sweet&Tea
More from the developer Sweet&Tea comes a title called The Seventh Sign -Mr.Sister-! The translation is at 70% and editing is at 70%! After that we'll be waiting for a build from the developer! We also just recently announced their other game How to Raise a Wolf Girl and that one is progressing smoothly in QA!
"Good morning, Big sis!"
Vividly blonde hair and cat ears – – the beloved half-sister, Aoba Erika, once again visits the room of Reiji – – her male sister.
Yes, male.
Reiji is her older brother, unquestionably a man, but he is also her older sister. And her cat ears are indeed the genuine article — ones that appear and disappear thanks to a certain impetus, and can't be taken off. There are certain, complicated circumstances that led to this, but Reiji himself has accepted it. He neither corrects her, nor does he speak effeminately, as he continues his life.
Regardless, this isn't exactly the daily routine of the Aoba household. Obviously a sister should refer to her brother as a brother, and her cat ears shouldn't even exist.
It all started when a cat-eared girl named Fuuko saved Reiji's life. She claimed that she was a god and that three fragments of her divine powers are trapped inside him. As it turns out, those fragments are not a good thing to be inside ordinary humans and unless they get those fragments out of him and back into Fuuko, they're both doomed to die.
It's a life-or-death race against the clock for Reiji and Fuuko! And maybe after this is resolved maybe he can figure out what's going on with Erika as well.
Title: Muv-Luv photonflowers*
Developer: anchor Inc.
Featuring a dozen unique stories from both sides of the Muv-Luv franchise.
From the Extra universe:
An extensive epilogue to Sumika's ending from Muv-Luv Extra
Six individual ministories from the perspectives of the game's main heroines, taking place prior to the events of Muv-Luv Extra
From the world of Alternative:
Three stories that shed new light on the events and characters introduced in Muv-Luv Alternative, including backstories for Captain Isumi and Sergeant Jinguuji
Two ministories featuring all-new characters that expand upon Alternative's war-torn alternate reality by exploring the unique perspectives of the unsung heroes and supporting players in the war against the BETA
Coming to Steam this Summer!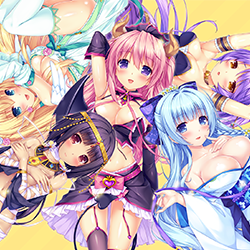 Title: The Ditzy Demons Are in Love With Me Fan Disc
Developer: SMILE
Those ditzy demons are back once again in the fan disc for The Ditzy Demons Are in Love With Me. The fan disc contains a series of after stories featuring all the lovable heroines from the original game. What kind of antics will Riria and the rest of these ditzy demons get into?
The Ditzy Demons Are in Love With Me – Fan Disc once again features the beautiful designs of character designer, Sayori, famous for work on the NEKOPARA franchise. Please note that while the base game is not required to play the Fan Disc, it is recommended to have played the base game before playing the Fan Disc to avoid spoilers.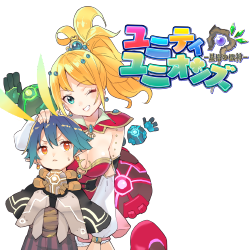 Title: Unity Unions
Developer: Denneko Yuugi
A story that happens some time after the events of Machina of the Planet Tree -Planet Ruler-. Corona Megistus, a girl from a family of gemstone magicians, unexpectedly comes across the core of the Machina, Arcturus. Alongside Arcturus, the novice gemstone magician, Corona begins to practice the art of gemstone magic.
From the developer of Machina of the Planet Tree -Planet Ruler-, comes this 3D action game. Battle through lush landscapes as you help Corona to master the magical arts. Unity Unions is slated for release on Steam as well as other platforms.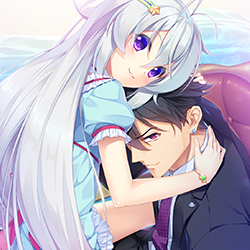 Title: Victory Project
Developer: 33paradox
And our last new visual novel announcement is for a Chinese visual novel called Victory Project! Victory Project is the first title by developer 33paradox and is a visual novel with puzzle game elements. This title is slated for release on a GOG, Nutaku, Sekai Project, and Denpasoft. This title is also non adult.
Ramon was serving a life sentence for helping politicians to launder money. After spending two years in jail however, an amnesty provides a new opportunity for him to lift him from his despair.
He is sent to Hive Island to work as a volunteer but rather than expecting further imprisonment or hard labor, he is surrounded by beautiful girls! However behind that peaceful life was a conspiracy. One that will pull him and his love from their peaceful existence down a far more sinister one.
Other Language Translation Projects!
We also announced some projects will be coming in Chinese!
Here's the list:
9 -nine-: Episode 2 and 3
A Clockwork Ley-Line series
Harumade, Kururu
Baldr sky
NEKO-NIN exHeart 3
How to Raise a Wolf Girl
Love's Sweet Garnish2

The Seventh Sign -Mr.Sister-

WABISABI
我们最近在中文社区进行了一场投票调查。 现在终于可以公开哪些游戏正在进行中文化的消息啦!
1、《9 -nine-: Episode 2 and 3》
2、《A Clockwork Ley-Line》系列1-3
3、《はるまで、くるる。》
4、《Baldr sky》
5、《NEKO-NIN exHeart 3》
6、《ケモノ娘の育て方》
7、《恋ニ、甘味ヲソエテ2》
8、《ネコ神さまと、ななつぼし -妹の姉- 》
9、《WABISABI》
非常感谢所有玩家对我们的投票积极参与,后续我们将根据情况公布更多相关消息。
And we also announced some Spanish translation projects! 
Here's the list:
9-nine-: Episode 1
The Devil on G-String
Hemos comenzado la localización de nuestros juegos al español, los dos primeros títulos en los que estamos trabajando son G-Senjou no Maou y Nine-9- ep 1. Mas información por venir cuando las fechas de lanzamiento estén.
That's all the news we have to share with you today! We look forward to seeing you at the next convention!