&nbsp→ News → Hana's Campus Life, October Major Update!
News
Hana's Campus Life, October Major Update!
Published on October 15, 2021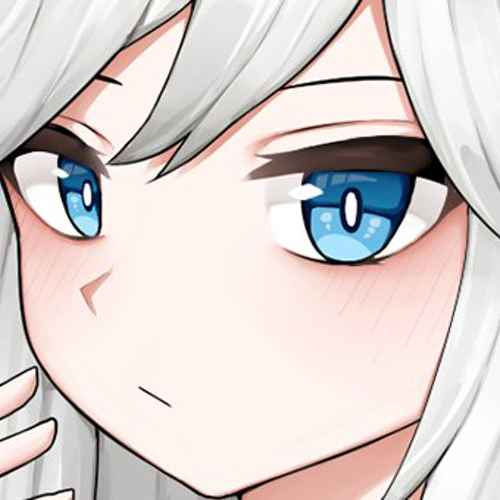 Hello everyone, it's been a while since we've had an update on Steam but we want to get everyone up to speed on what's been going on with the development of Hana's Campus Life. Please note that everything is still a work in progress and subject to change.

During the previous closed demo we launched in Korea, there was negative feedback regarding the game's logo. It's with that feedback that we took the time to redesign the logo. This also led to our overhaul of the existing UX design to fit the new logo.

To emphasize the game's themes of "love", "campus life", and "love comedy", we made the text rounded and used a pink gradient as the main theme color. Also, we added a Instagram-like icon on top of the entire logo to complete the look.

Our goal with the new UI/UX design was the focus on "simplicity" and not adding too much to get in the way of the user experience. We made the textbox mostly transparent and made the UI buttons smaller and semi transparent as well. When the opacity on those buttons will increase from 50% to 100% when you move the mouse cursor over them.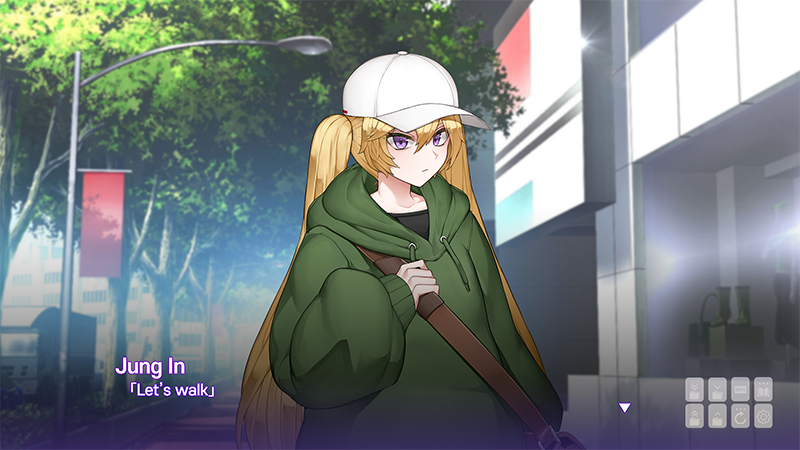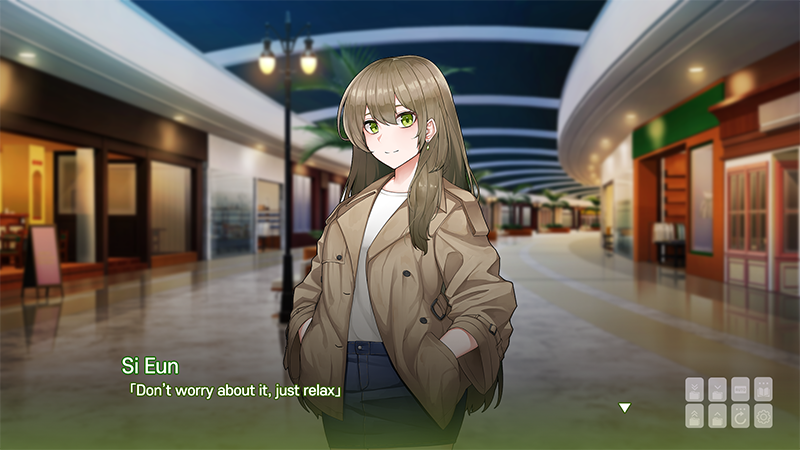 The save and load windows were also redesigned and the config window now contains all the game's various settings on a single page. This change to the config window will make it easier for user's to adjust the settings in the game without having to go to individual pages for different settings.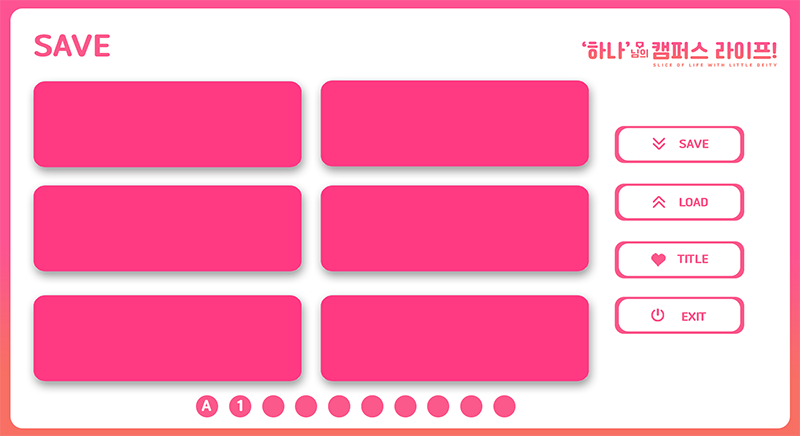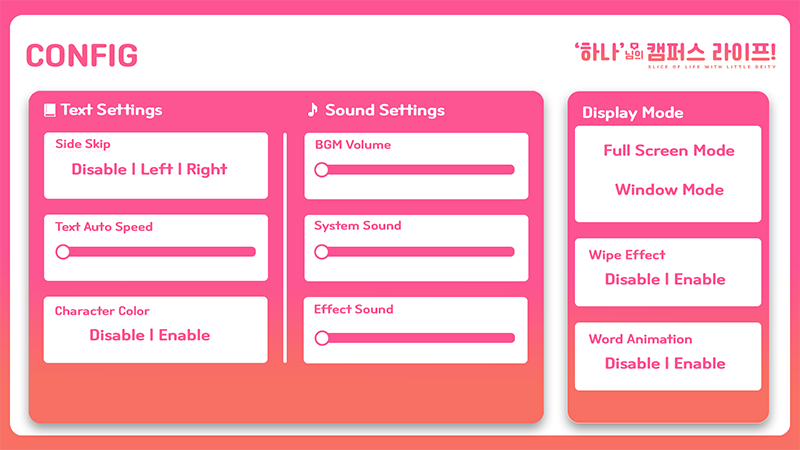 Si Eun
Profile
Is your favorite type of character a tomboy or a minx? Perhaps both?
In that case, Si Eun will be the perfect choice. However beneath that smile, there is a lot more to Si Eun than one may think.
A genius inventor… Successor to a multinational IT company… Hidden family problems…
Is this still a visual novel or something straight out of a K-Drama??
Where will the path with Si Eun lead to?
That is for you, the reader, to decide!
Character Design
The key concept of Si Eun's fashion is that of a campus model.
Trench coat, denim mini skirt and skin-colored stockings…
She is literally a goddess descended from heaven, worshipped by engineering students.
Main Storyline
She is someone that knows you best. She treats you like a little brother which gives off the image of someone who might be easy to go out with but… that may not necessarily be the case.
Her past as well as the problems she keeps to herself are likely to bite you in the back and confuse any decisions you will make.
Jung In
Profile
Known for being a lone wolf by her fellow classmates but… wait what? She can also see ghosts?
Due to this unwanted special ability, Jung In grew up in an unfortunate situation.
It's time for you to help her!
A campus life involving mysterious powers and her shy affection towards you. Can you be the hero for her?
Character Design
The key concept of Jung In's fashion is cool effortless style.
Jung In lives a quiet life and prefers to avoid being the center of attention.
White hat, oversized hoodie, sneakers with black stockings are Jung In's trademark.
Unfortunately she isn't conscious at all about how cute she really is.
It's a well-kept secret that Jung In's socks are 3 times as expensive as Si Eun's entire wardrobe.
Main Storyline
Jung In's story is completely different from the tomboy, Si Eun. Every decision needs to be made with careful deliberation and caution. Hers is a story about a young girl overcoming her own trauma.
Hana
Profile
After Hana's saves your life, you suggest for her to stay with you until she recovers her powers.
Games, movies, and food! She is constantly amazed by the things humans enjoy.
This happiness doesn't last as forces show up to take her back.
Now is the time to act! Don't let them disturb Hana's peaceful days!
Character Design
The ultimate goal with Hana's designs was to enhance how cute she is.
It is imperative to let everyone out there know that she is very cute.
Mini skirt, white blouse, and a blue cardigan? Perfection.
Main Storyline
More details coming soon!
Scenario
70% of the new scenario has been completed. Since the release has been delayed, we're taking the time to check the current scenario text for any issues.
Programming
UI programming is done. Currently we're waiting on the remaining assets to be approved so we can begin adding these elements to the game itself.
One interesting feature we're working on involves the character Jung In. Since she's very shy, she prefers to talk to others via a messaging app. To enhance the user experience and emphasize this character point, we're working on a phone/messaging app system within the game to interact with her. Stay tuned for more details on this feature in future updates!
We've also been taking notes from other Japanese visual novel releases in how scene effects are handled. There'll be more on the updated scene system in future updates so look forward to that.
Artwork
Currently we are updating all the art assets in Hana's Campus Life so we can get it to a level of quality that we expect ourselves to deliver to everyone. Though this is taking more time than expected, things are still moving along at a reasonable pace according to our current schedule.
Recently, we've also brought onboard an illustrator to draw SD character assets. We're very excited by this addition to our team and can't wait to show some of the new SD art that will be introduced into the game!
Music
Alongside all the updates and improvements to Hana's Campus Life, we will also be updating the theme song, "Sweetener" as well. More details coming soon!
A Final Word
For those of you who have been following the development of Hana's Campus Life to new users that stumbled upon this update, we here at LIMITED FACTORY thank you for joining us on this journey! It's been more than a year since we began development on Hana's Campus Life and we're glad to have the opportunity to share news about these new updates with users around the world.
In November 2021, we will begin a marketing campaign that includes promotional events as well as an upcoming Kickstarter crowdfunding campaign! For all the latest news, follow the LIMITED FACTORY on Twitter and hit that Notify button. See you next time!