&nbsp→ News → Kimagure Temptation Released on Steam!
News
Kimagure Temptation Released on Steam!
Published on November 19, 2021
It's been a longer journey than expected but we're pleased to announce that Kimagure Temptation is now available on Steam! From the developers of Nanairo Reincarnation, return to a world where ghosts, demons and the supernatural are very much real.
When a series of grisly murders point to supernatural forces at work, the police have no choice but to turn to Haruhisa Tatsumi, a diviner in the Bureau of Divination, to investigate on their behalf. Haruhisa then finds himself teaming up with Anneliese, a demon from England, to solve this crime but it seems Anneliese is more interested in him than anything else. How will he stay focused on his job without giving in to his own desires?
With multiple endings, beautiful character designs by Kimishima Ao and E-mote animation that really brings out Anneliese's… charming qualities, Kimagure Temptation will certainly become a fan favorite for everyone!
Regarding the Steam release, some of you may be wondering why it is marked 'adult'. Despite this designation, it is our opinion that the Steam release of Kimagure Temptation does not contain adult content. While we did what we could to be in compliance to Valve's guidelines, it was still difficult to do so. What we were told was that even if no adult content is present, if any content is overtly adult in nature then the title will need to be marked adult only. While it does seem very unfair, when you consider the main heroine of this story…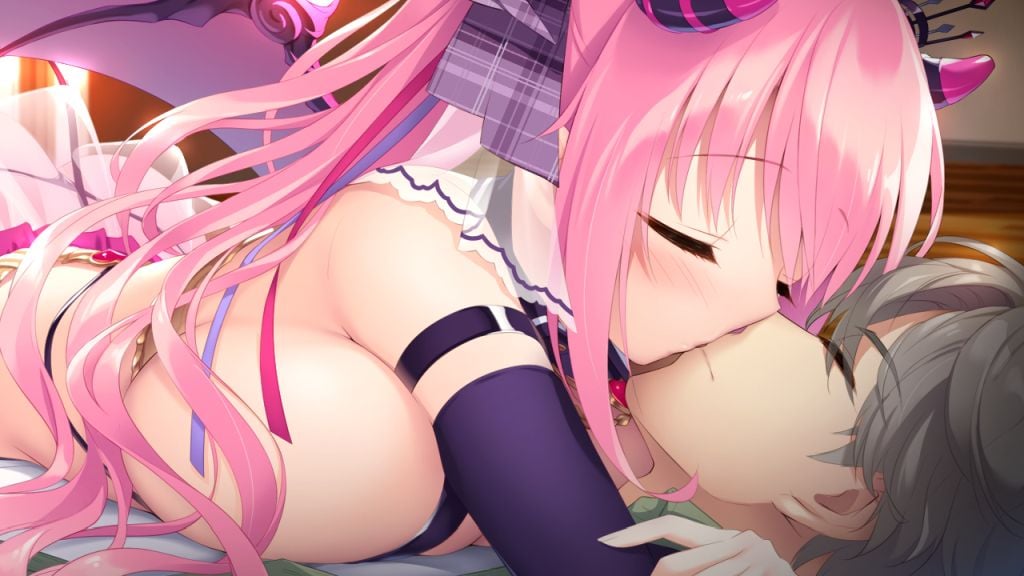 Anneliese is just really… friendly. Yes, nothing out of the ordinary here.
It was internally debated as to how we should approach this issue. The bigger issue is that a game marked as 'adult' on Steam has reduced visibility and also may become unpurchasable in the case of users in Germany, China, and other countries. It is not an ideal situation to be in but considering that this game was slated originally for a release during Halloween this year, it could not be held back any later.
Despite this foibles, we're happy that Kimagure Temptation was eventually approved and is now available for purchase. We certainly hope that users will enjoy this visual novel and perhaps even fall in love with the adorable Anneliese.
Kimagure Temptation
Developer: Silky's Plus Wasabi
Price: $19.99
Release Date: Nov. 19th, 2021
Available On:
Steam
itch.io
Sekai Project Shop