&nbsp→ News → KuroCon 2020 Updates & Announcements!
News
KuroCon 2020 Updates & Announcements!
Published on July 4, 2020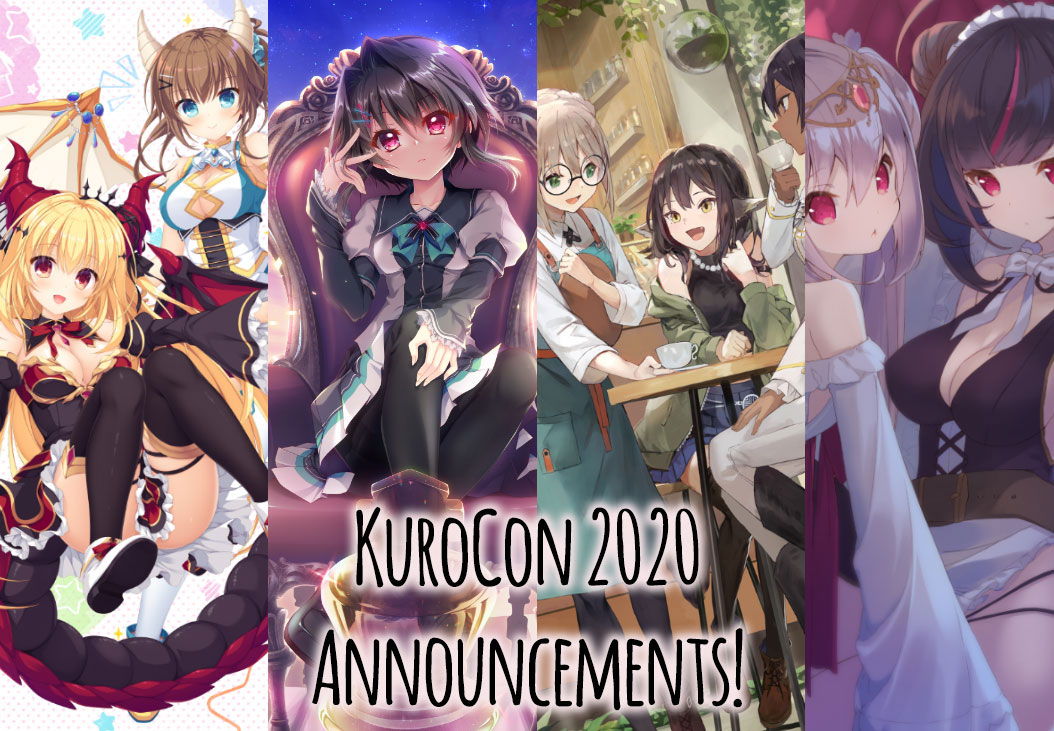 We don't wanna spoil you too quickly on what's new, so let's go through the update first!
Game Updates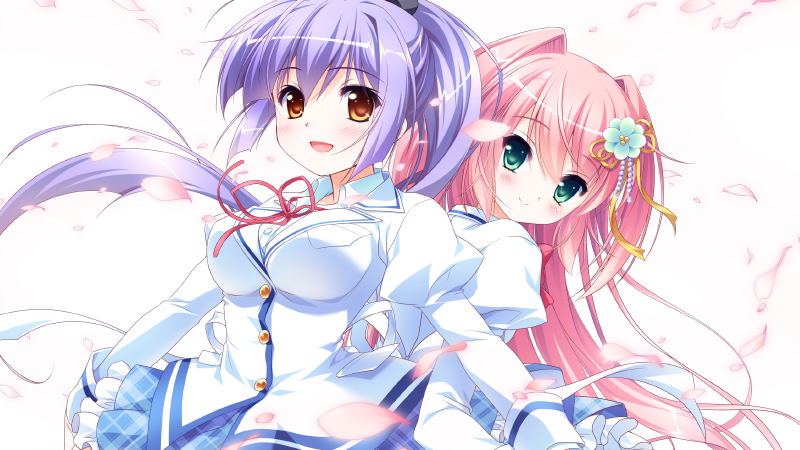 Harumade Kururu
Developer:
Sumikko Soft
A Certain Situation
Of course, even if I put it that way there's no way I can explain the situation I'm in…
In any case, I find myself with 4 other girls on a long spring break far away from civilization. To emphasize how middle of nowhere this is, there isn't even a convenience store here. I don't have a cell phone and despite having some rather good laptop computers, I have no way to connect to the internet. All that's here is a large dormitory the likes you'd see at a hot springs resort and a school that looks like it's on the verge of closing down. There's a farm that's closed and fields with ripening winter vegetables. In the distance you can see snow capped mountains and the beautiful, clear waters of the sea.
…and out in the distance stood a tower of unimaginable height who's purpose was anyone's guess which stretched into the depths of the sky.
This wasn't a fantasy, or something out of sci-fi or even a mystery. With all that going on, the only intent was to spend some peaceful days with these four girls but that was totally not what was about to happen. One girl. In a quiet summer that's quite prone to crazy happenings. And these words that come out of her mouth.
"We'll make this place a harem for him!"
Wait, when you say harem, uhm… well… Huh??
I wondered what she meant by that as she took off her clothes and the events of that summer unfolded…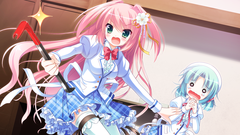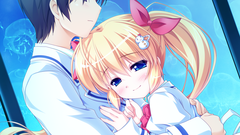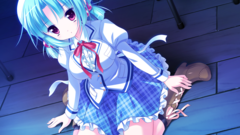 We first announced this title back during Anime Expo 2018 and now we're getting closer to the release! Right now we're just awaiting a build from the developer before we can throw it into QA. The current plan is to have it released by 2020.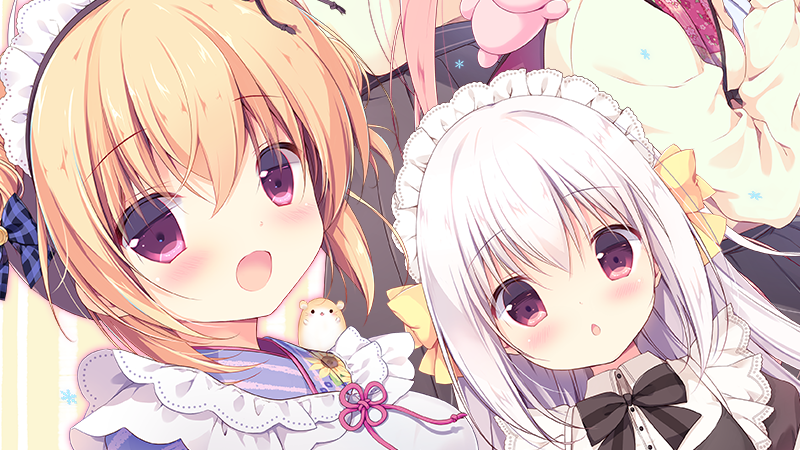 Love's Sweet Garnish 2
Developer:
Canvas+Garden
Months after the reopening of the cafe, Milk Hall Caramella, the season now shifts to summer. It is a time that is much loved by the people who live in this town. Thanks to promotion from magazines and television, the cafe becomes very popular.
With a need for more staff, soon underclassmen Ciel and Koron have come to help out at Caramella as well.
With everything going on, our hero Asaki's grandmother gradually becomes well again and is able to visit the cafe after it's reopening. She is deeply moved by the bustling business inside the cafe. It's at that moment that she approaches Asaki to not simply continue to run the cafe for her but to formally have him be the successor to the cafe.
No longer unsure of what to do, Asaki is steadfast in his goal to protect Caramella.
From developer Canvas+Garden comes the sequel to their first game title which features their many mascot characters. The focus of the sequel shifts to that of Ciel and Koron while also adding in an after story for the heroines of the first game, Rira and Richer.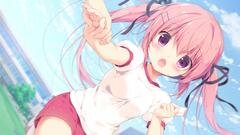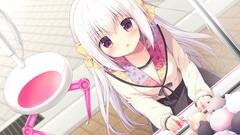 First announced at Anime Expo 2019, Love's Sweet Garnish 2 is slated for a 2020 release and will feature both English and Chinese language options. We do plan to release the Chinese version first however. You can also pick up the original game on
Steam
.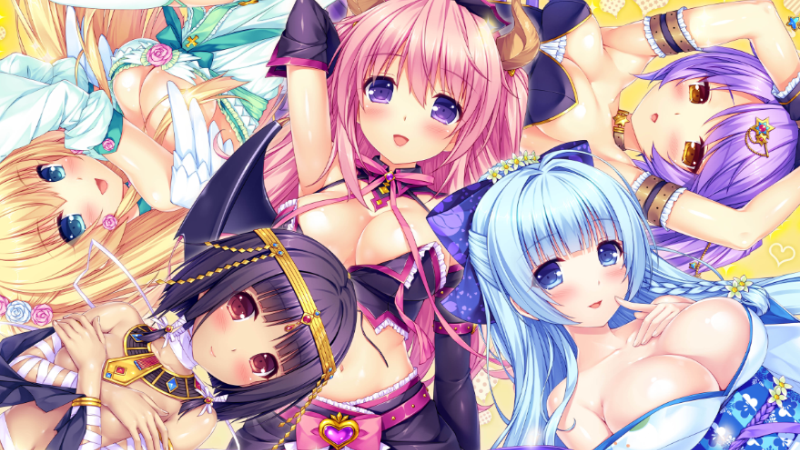 The Ditzy Demons Are in Love With Me – Fan Disc
Developer:
Smile
Those ditzy demons are back once again in the fan disc for The Ditzy Demons Are in Love With Me. The fan disc contains a series of after stories featuring all the lovable heroines from the original game. What kind of antics will Riria and the rest of these ditzy demons get into?
It's almost here! Ditzy Demons Fan Disc is set to release in 2020, we have a build and it's been set into QA! Let's hope things go smoothly so you'll all be playing soon. And while it's not required, we highly recommend that you pick up the main game on
Steam
! *wink wink*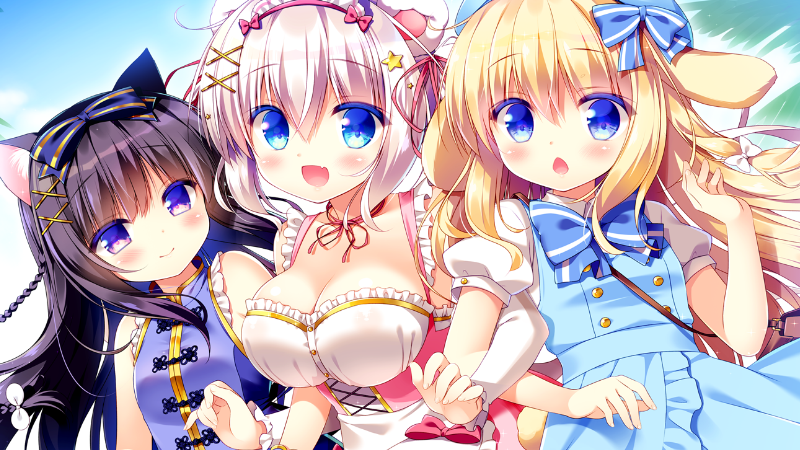 Island Diary
Developer:
watakubi
Now that I think about it… is this heaven?!
A young man is found unconscious on a beach by a bear-eared girl named "Momo". According to Momo, the young man was washed up on this isolated island and had no recollection of what happened to him before. Returning to the beach where he was found, he finds his belongings and from that he knows that his name is "Ryou". However, Ryou still cannot remember how he ended up on this island and what happened before that.
On top of that, there was no signs of civilization on this island. There were no signs that the common staples of society such as doctors or even the police ever were present here. In his state of confusion, with the help of the energetic and positive, Momo, he makes the decision to try and survive the situation he's in.
Ryou learns about the island from Momo. She tells him that other girls like her such as the cat-eared "Kuro" and the rabbit-eared "Mocha" also are here. The three girls put their energy together to live together but the possession of a certain diary has taken them further and further apart.
For the sake of Momo who felt lonely by herself,
And for the sake of surviving on this solitary island,
Ryou suggests that the girls work together again once more.
Together with three cute animal-eared girls, this heart-throbbing, exciting and titillating life on a solitary island begins!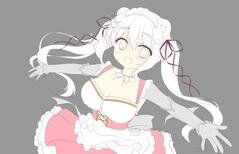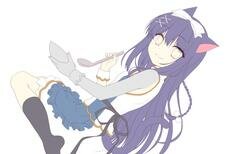 Development is nearly complete for Island Diary! It was first announced at Anime Expo 2017. We're currently aiming for a winter 2020 release at this time. If you like the art, then do check out Harumade Kururu (when it releases of course!)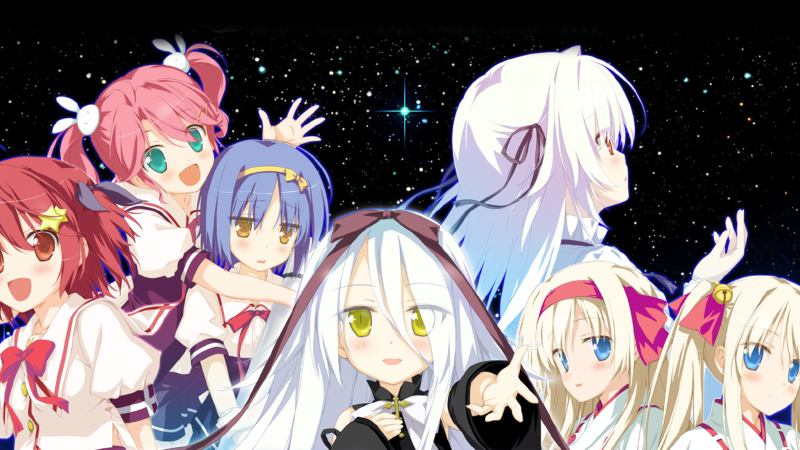 Hoshizora no Memoria HD
&
Hoshizora no Memoria Eternal Heart HD
Developer:
Favorite
Meet Kogasaka You and his little sister, Chinami, both of whom after the sudden death of their mother, are set to leave the city to go back to their childhood hometown to live with their aunt, Shino. Initially leaving their hometown of Hibarigasaki was difficult for You, as he was close friends with a girl who he saw nearly every day after school at the local town lookout. When she discovered that You would be leaving the town, she made him promise to return to marry her and left him with simply a kiss on the forehead to remember her by.
Once You returns to his hometown, he searches for that childhood friend, only to find his previous meet-up location is now fenced-off and abandoned. While out searching, he instead stumbles on a mysterious girl named Mare who carries a scythe and claims to be a Grim Reaper. Now back in his hometown, You starts to rebuild his life, making friends and continuing his search for the girl he made a promise to. Will he eventually find his promised love? Who is this mysterious girl and why does she seem so familiar?


So first of all, Hoshizora no Memoria
is already available on
Steam
, but we're now pleased to announce we will be making the HD version of the game available as a FREE update. More details to come in Kickstarter post.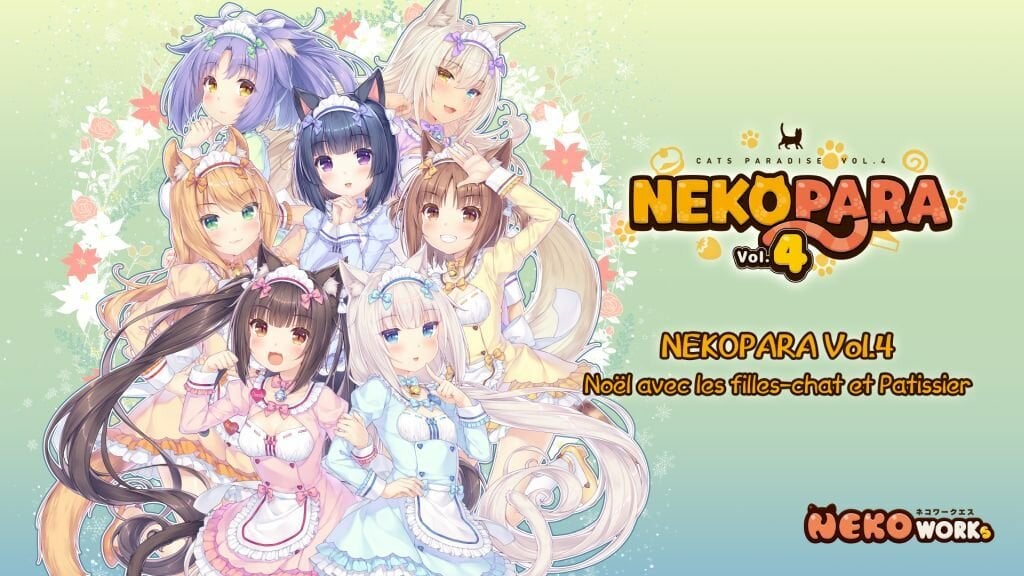 NEKOPARA Vol. 4: Noël avec les filles-chat et Patissier
Developer:
NEKO WORKs
Despite the popularity of Kashou Minaduki's patisserie, "La Soleil", his father continues to disapprove of it.
Seeing how troubled Kashou was, Shigure offers up a suggestion as a change of pace.
A hot springs trip with Chocola, Vanilla and the other catpanions.
With Azuki and Coconut's encouragement, Kashou is determined to confront his father while Maple and Cinnamon suggest a trip to France to seek advice from the teacher who taught him his craft.
But why is Shigure also tagging along!?
And an encounter with a new catgirl in France…
This story is a heartwarming cat comedy about the growth Kashou experiences
through his catpanions and the bonds with them and his family…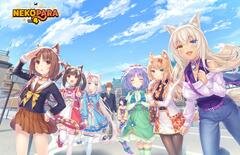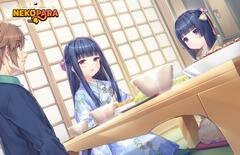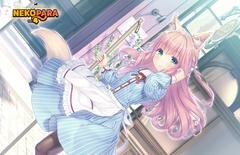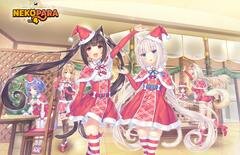 We're planning for a November 2020 release at this time! Don't forget to pick up the NEKOPARA series on
Steam
!
And onto announcements!!
Game Announcements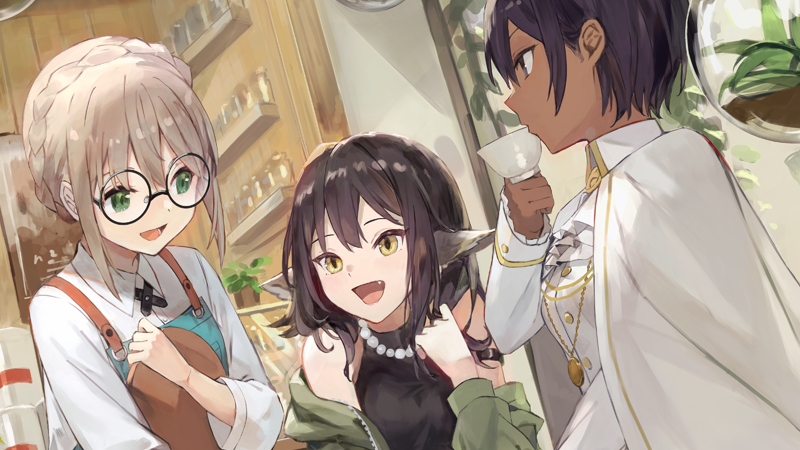 Please Be Happy
Developer: Studio Élan
Born as a fox in the forest of Korea, Miho carries with her the memory of a traveler who showed her kindness and spoke of home. Now more human than fox, Miho has spent a long, long time searching for her person. She arrives by airship to Wellington Skyport, one of the jewels of the floating island of New Zealand.
Despite her years spent observing humans, she still has a lot to learn about their culture and society. She's made a living so far as a thief, her heightened senses allowing her to easily take advantage of people. She's also seen a lot of the worst of what mankind has to offer.
It's only after meeting Juliet, the owner of a small library, and Aspen, an aspiring novelist, that Miho starts to understand what kindness is, and that there's more than just the bad stuff when it comes to people.
From the studio behind Highway Blossoms and Heart of the Woods comes this heart warming tale featuring character designs by Kobuta. Please Be Happy is slated to be released on both Steam and Nintendo Switch.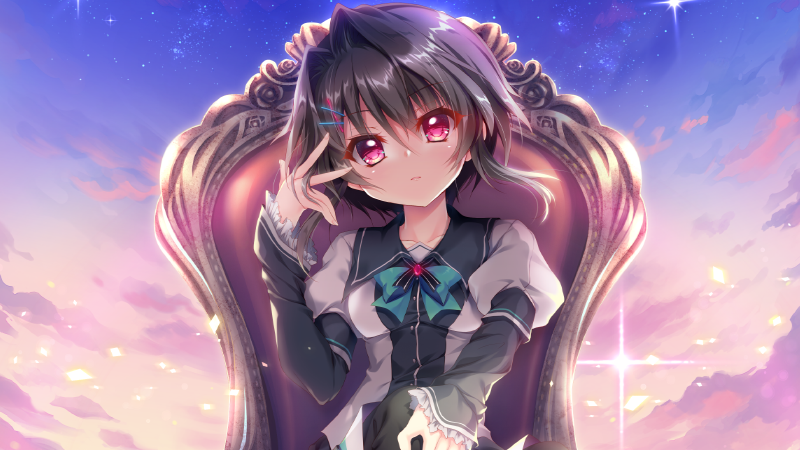 9-nine-: Episode 4
Developer:
Palette
Please note: The following contains spoilers for the 9-nine- franchise as it contains information from previous games.
Shiromitsugawa City: an academic city with no other particular features.
A large earthquake hits the city, damaging the sacred treasure in the Shrine of the White Serpent's Relic, and causing strange items appear from a parallel world. These "artifacts" grant strange powers to their owners, with incidents of an owner abusing their powers and turning people into stone. By using his ability to observe parallel worlds, Niimi Kakeru has finally put a stop to the man using Artifacts for evil.
Moreover, he's discovered the mastermind behind their arrival in the first place. Sophitia asks him to bring the mastermind down, and so he returns to the very beginning.
The day of the festival, when the earthquake occurred. Armed with the knowledge of all the previous branches he's experienced, Kakeru sets out to put an end to everything once and for all. He knows that the power of Yuuki Noa's, a principled girl who goes to Kuho Academy, will be necessary in resolving this incident. In order to bring her over to his side, he tells her everything he's seen in the other branches.
The time has finally come to uncover the truth behind the Artifact's arrival, and to settle the score with the Evil Eye's User.
From developer, Palette, comes the latest chapter in the supernatural mystery visual novel series, 9-nine-. Each entry in the series focuses on a different heroine and the focus now shifts to Yuuki Noa.
Our first announcement is 9-nine- Episode 4! We're currently still hard at work on Episode 3 at this time. Get
Episode
1
&
2
on Steam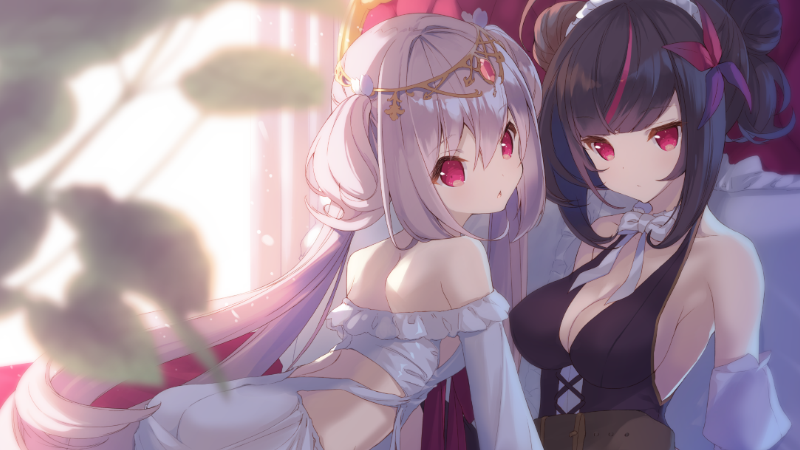 KARAKARA3
Developer:
calme
Let us live
on this land so arid.
KARAKARA. It is the sound of aridity. It is the sound of dry asphalt and sandy winds. It is the sound of relentless sunshine, as well as the sound of a withering race.
The "Age of Dusk." It is a time of senescence for the human species, during which hybrids known as the "Others"—those who are human, yet not—exist in great numbers. On the windswept barrens of a land without moisture, a small gathering of people make their living in a world they no longer know. Down a stretch of highway and far from the heart of the town are two such people, Leon and Lucia, who run a small diner. Together with Aisia and newcomers Rebecca and Mari, they lean on each other to survive in this arid land. Those peaceful days come to an end when Leon hears the sound of a telephone, a Relic from the past and is informed that Cullen, a member of the town vigilante corp, is being held hostage.
What is it that the kidnappers seek from Leon? Will this lead to an understanding of the disaster that befell the world in the past?
Initially mentioned back in 2018, KARAKARA 3 marks the final chapter in the KARAKARA series. More details to come very soon. Get KARAKARA on Steam.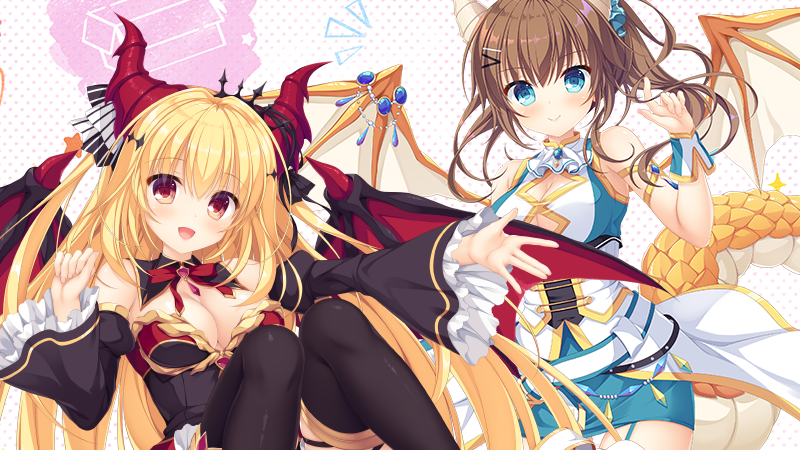 Slobbish Dragon Princess
Developer:
Whirlpool
The main character is a sprightly young NEET who lives in a dilapidated dojo. He and his family are known martial artists, but his father is a deadbeat; a gambling drunkard constantly getting into fights. Meanwhile, he refuses to work, claiming it to be part of his training. Ichinose Suzuka from the neighboring sweets shop often takes care of him.
One day, he picks up a strange, lizard-like being on the side of the road. At first, he planned to cook it, but Suzuka vetoes the idea. Instead, he names it "Haru" and keeps it as a pet. As he grows fonder of Haru, dragonkin suddenly invade from space!
The dragons are about to take over earth, but Haru suddenly transforms from a lizard into a beautiful lady and persuades them! Wouldn't you know it — Haru was actually the princess of the dragons!
Mankind somehow avoids total subjugation, but now Haru joins the protagonist in his NEET lifestyle. Meanwhile, Suzuka is on pins and needles as they try to avoid the spotlight. Even now, dragons can be spotted here and there around town. Here begins their bizarre, yet down to earth daily life.
From the developer of the Neko-nin exHeart series comes this romantic comedy with a dragon girl. Currently slated for a 2020 release. See more Whirlpool products on Steam.