&nbsp→ News → Miko no Kanata: Curious Tales from Oguni Shrine -Cycles- Coming to Steam!
News
Miko no Kanata: Curious Tales from Oguni Shrine -Cycles- Coming to Steam!
Published on July 29, 2022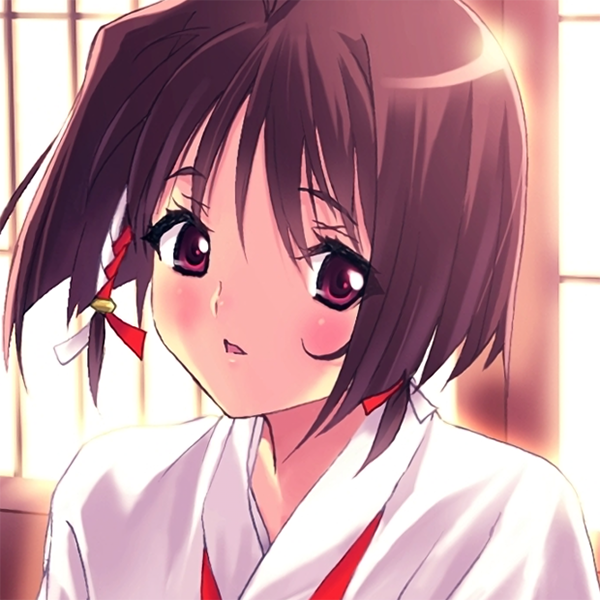 Fridays are usually reserved for Project Status updates but we have something special for everyone in the form of a new title announcement! From the developer of Real Life Plus Ver. Kaname Komatsuzaki comes this traditional-style romance title for all the miko (shrine maiden) lovers out there. This release features several enhancements to the 2014 release.
Miko no Kanata: Curious Tales from Oguni Shrine -Cycles- tells the story of Kiryu Yuuya, a seemingly ordinary high school student. A normal life was what he had hoped for and on his first day of school, he sees a girl sitting in what he had thought was an empty classroom. The girl, Mikanagi Akiha, has a mysterious aura surrounding her and is also the spitting image of a miko who keeps appearing in his dreams to kill him.
However, Yuuya felt a strong sense of fate in their meeting each other.
"It's feels like we finally meet… Yuuya-san."
Akiha said those words, filled with a strong fascination in Yuuya.
They were soon drawn to each other…
A young woman's love that pierces through the vastness of a thousand years.
The tragic fate imposed upon these fighting shrine maidens.
And the followers of darkness who seek to rampage through the world of night…
With those strong feelings alone, will Yuuya and Akiha be together?!
Mikanagi Akiha, the mysterious beauty and heroine of this story
One of the challenges in bringing this release to it's current state was in porting the game from LiveMaker, a discontinued visual novel engine to something modern such as Unity. Our programmer did an excellent job in that effort which has also led to a number of improvements over the original release. Among other things, the game properly supports modern, wider screen resolutions without the need to crop in-game image assets. There is also a built-in language toggle that allows the user to switch between English and Japanese. Putting the game on Unity also allows for better compatibility for future operating systems. To be fair, LiveMaker has it's own charms such as the robust flowchart function it has to organize complex scripts. There's definitely something in this older engine that would be nice to have in modern visual novel engines, but that's a discussion for another time.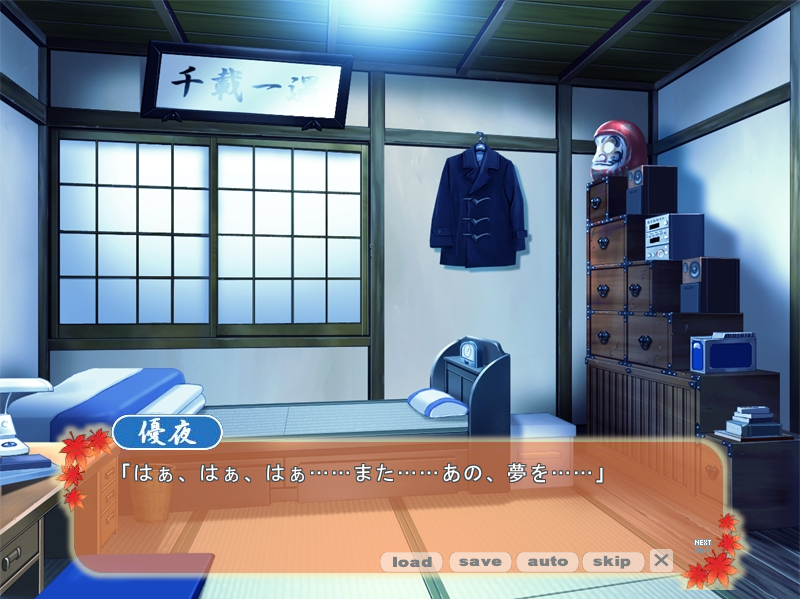 Livemaker ver.
Steam ver. built in Unity
In the move to Unity, it was also decided to update the user interface. The original version of Miko no Kanata: Curious Tales from Oguni Shrine -Cycles- used the generic/default UI elements in LiveMaker and so a decision was made to give the game a modern touch on this end as well. This effort can be better explained by our in-house graphic designer!
—
Hi everyone. I'm Miranda, the graphic designer in charge of the UI update. Alongside our main programmer, we're happy to bring these UI changes to Miko no Kanata. We revamped the design and features to give everyone a more enjoyable experience with the game. From the settings menu to the text windows, we updated them completely.
With the redesign, we wanted to keep the theme of the game in mind while balancing player navigation. Colors were based on the logo for overall consistency with the UI, and the maple leaf motif was kept. Other features like confirmation windows were added as well.
Text Window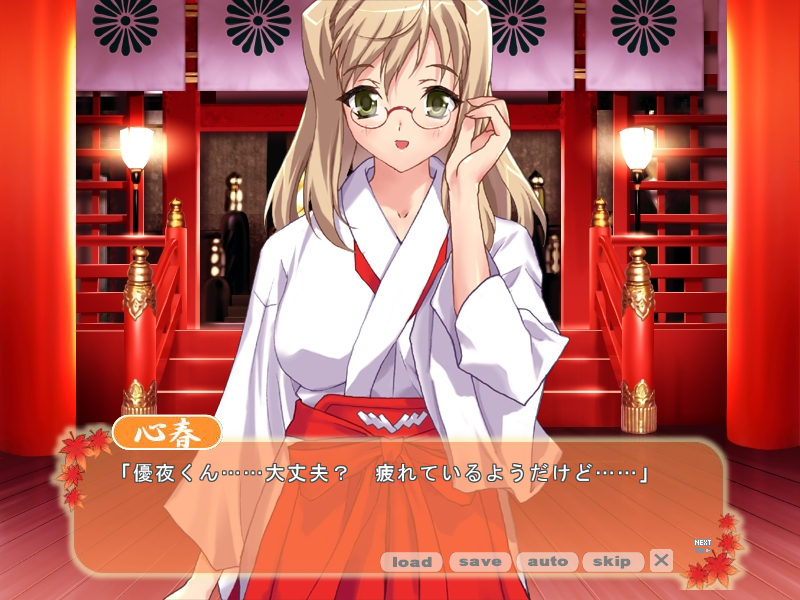 Livemaker ver.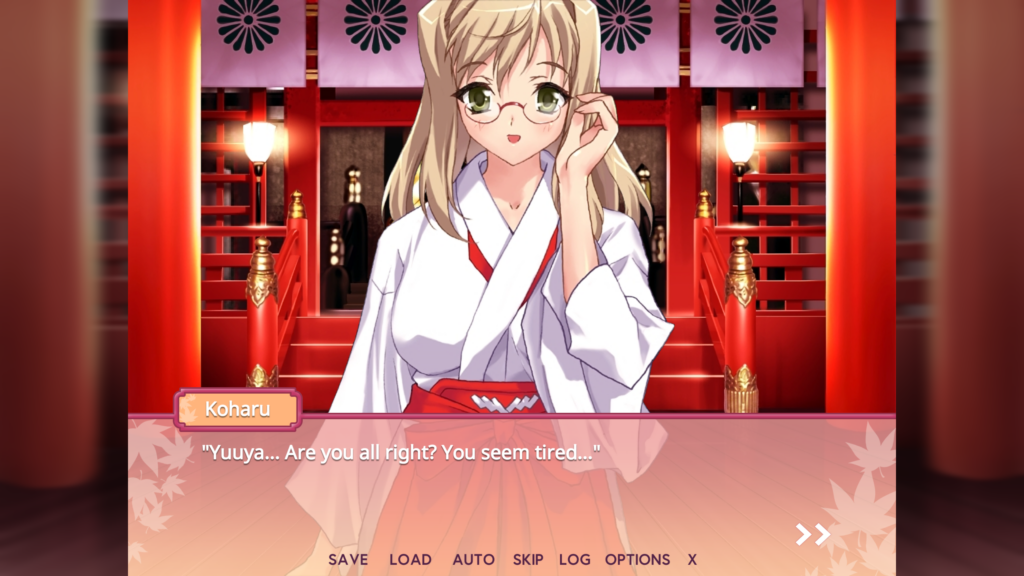 Steam ver. built in Unity
The main text window options layout was overhauled for more convenient access and easier legibility.
CG Gallery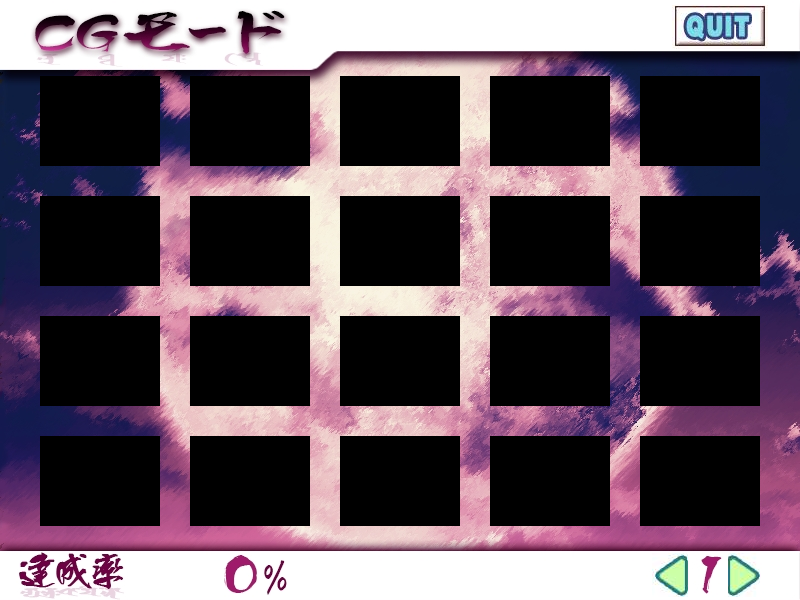 Livemaker ver.
Steam ver. built in Unity
A more modern design was given to the CG gallery. Images sets are marked with a number so players can view them together. Previously, every CG and its variations had it's own thumbnail but this way the images are organized together.
Save/Load Menu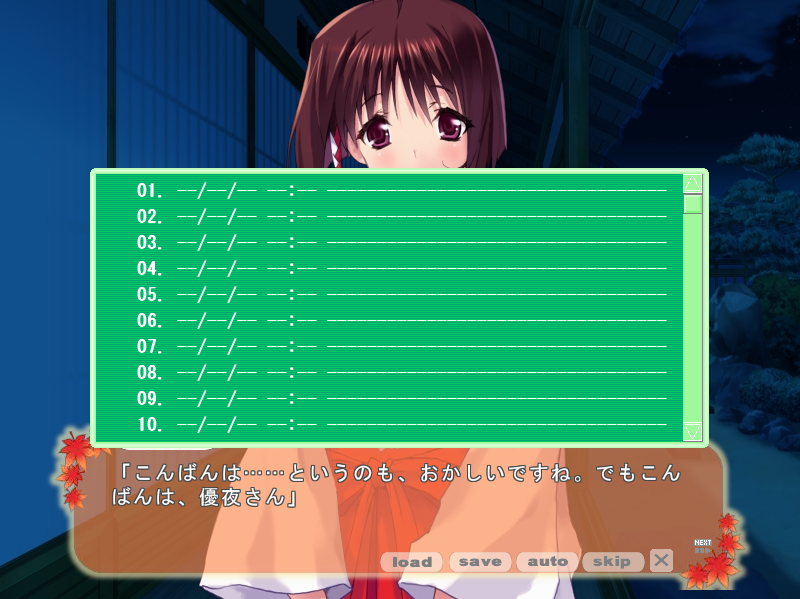 Livemaker ver.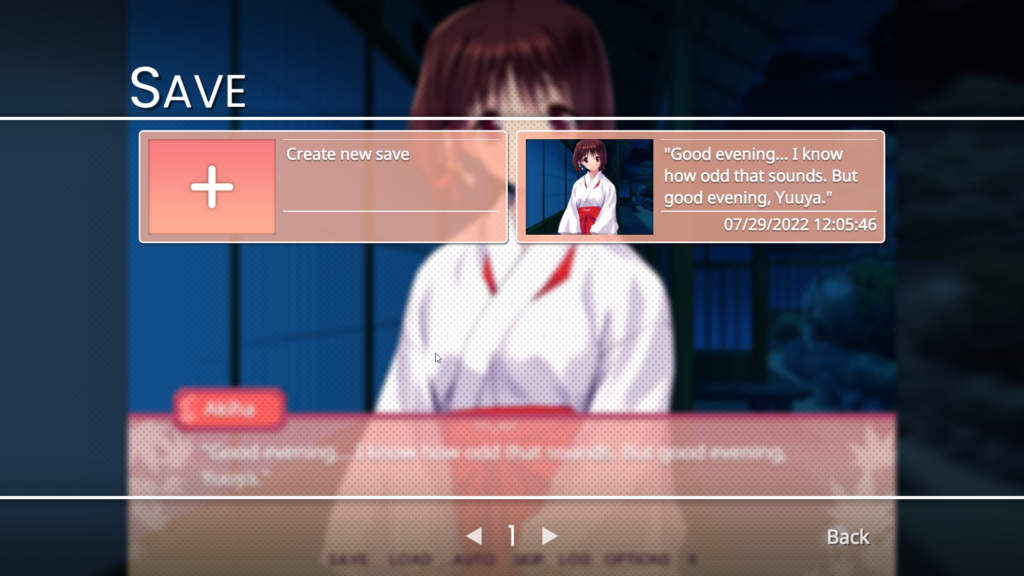 Steam ver. built in Unity
For the save menu, we switched from a scroll to a page system. The original color was changed completely to fit the overall theme as well.
These are just some of the changes that went into the UI that we wanted to showcase, and we hope you look forward to seeing the rest. If you're a fan of shrine maidens (like me!), make sure to pick up this game.
—
Another major change was the logo for Miko no Kanata: Curious Tales from Oguni Shrine -Cycles-. It's always a challenge to convert a vertically oriented Japanese logo in to an English logo. We reached out to another graphic designer, Maschera, to handle this task and they did an admirable job of creating a modern logo to fit the game.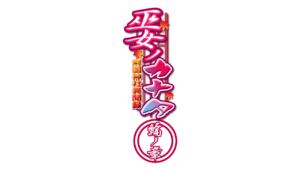 Japanese logo and English logo
This covers a lot of what we wanted to discuss regarding this upcoming release. There are still some minor fixes to implement before we're ready for release on August 5, 2022. For everyone that has patiently waited for more releases from Fan-na, the wait is over (soon)! We hope all the miko fans out there will look forward to this release. And if you aren't in to miko, perhaps this game will make a convert out of you.
Miko no Kanata: Curious Tales from Oguni Shrine -Cycles-
Developer: Fan-na
Price: $12.99
Release Date: Aug. 5, 2022
Coming Soon to:
Steam