&nbsp→ News → Rewrite+ Now on Kickstarter!
News
Rewrite+ Now on Kickstarter!
Published on October 17, 2019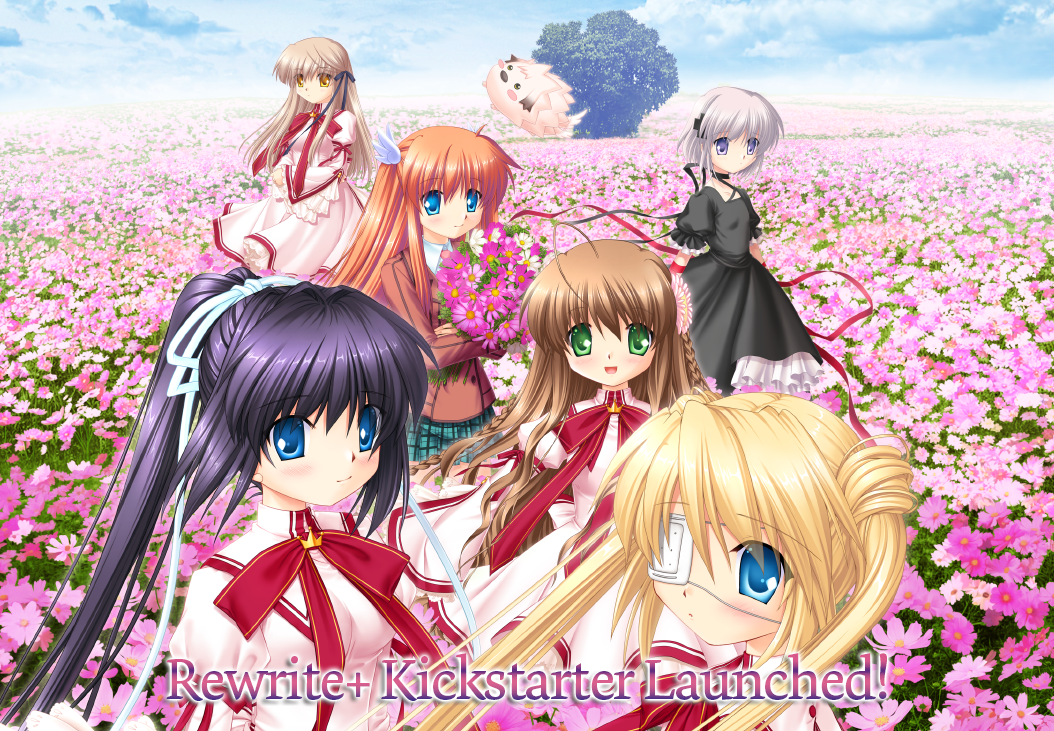 We've got exciting news for you all! Rewrite+ has just launched on Kickstarter! The goal is pretty high and we've got a ways to go, but with your support we can make it! We've got exciting exclusive physical merch for you to pledge for as well! All reward designs are samples and subject to change. For more details and information, please check the campaign.


The city of afforestation, Kazamatsuri.
In this city built upon the ideal coexistence of civilization and the environment, Tennoji Kotaro spends his days with his friends, Kanbe Kotori and Yoshino Haruhiko. In this peaceful city, a tumultuous event shakes the foundations of Kazamatsuri once a year.
The harvest festival. Within this immense scale event, Kotaro collects all sorts of information. There are always rumors about unidentified creatures and the occult.
At the same time, mysterious happenings keep befalling Kotaro. He takes up the offer to help Senri Akane, the club president of the Occult Research Society and begins an investigation that will end up involving his fellow classmates.
To Kotaro, this created a lively and adventurous feel. To be able to spend time with this energetic and boisterous group was just right for him.
But there's something Kotaro doesn't know.
He has yet to learn that his adventure is connected to a journey towards the "truth" that no one else has discovered.
-Is it possible to rewrite fate? Her fate?-
First released in 2016, Rewrite+ features new content and several updates to the original Rewrite. Rewrite+ also includes the Rewrite Harvest festa! fan disc and we're proud to be releasing both Rewrite+ and Rewrite Harvest festa!

We also have an update to share with you about CLANNAD! Late last night (or early morning/afternoon depending on where you're located) we released the Simplified Chinese translation of CLANNAD on Steam! But that's not all, the price has now been permanently dropped to $44.99. We can't recommend this classic visual novel enough! Go check it out, tell your friends, spread the word! And as always, thank you for your continued support.
Purchase CLANNAD on Steam