&nbsp→ News → 2022 Year In Review
News
Published on December 31, 2022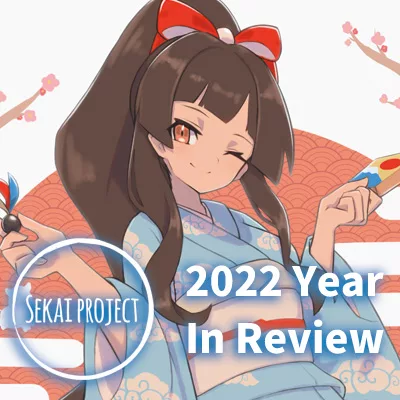 Another year is in the books and with that we have our end of the year write-up to cover all the things that happened over at Sekai Project. Since we started doing these write-ups at the start of the pandemic, there has been rapid change all around us. From anime conventions in full swing all around the US to the resumption of travel to Japan, it's certainly been a hectic year. Alongside our releases, we've also made a substantial dent in our remaining crowdfunding obligations although there is more work that needs to be done on that end.
On top of everything that has gone on in 2022, we are gearing up for an even busier 2023 as next year will mark 10th years since Sekai Project was founded. While I won't spoil what we have in store for everyone, I will simply say that we will be doing what we can to make our 10th year in operation, a memorable one.
Without further ado, here's our 2022 year in review.
2022 New Releases
17 titles were released in 2022, including 13 titles on Steam, 2 titles on 3rd party platforms and 2 titles on PlayStation 4. While not counted in those 17, there were 3 previously released titles that were made available on other platforms as well. We'll get to those in a bit.
Fans of the popular 9-nine- series who were looking for more content were definitely in for a treat in 9-nine-:NewEpisode. This release contains a series of short, after stories for each of the heroines. Whether you were drawn in by Miyako, Sora (aka Best little sister ever), Haruka, or Noa, 9-nine-:NewEpisode is definitely a fantastic way to cap off this series.
2022 also saw titles coming from developers we had not worked with before such as NEKO-MIMI SWEET HOUSEMATES Vol. 1 (Mint deserves all the headpats) by Animal Herb and One Last Crane by Indonesian developer, Blissful Work. NEKO-MIMI SWEET HOUSEMATES Vol. 1 features Live2D animation that brings out the adorable features of creator Yano Mitsuki's animal-eared characters. One Last Crane, which was crowdfunded on Kickstarter by the developers, features a dramatic story centered around Yuuki's wish to meet his childhood friend one more time.
Fans of yuri content had plenty to rejoice with the release of Watamari – A Match Made in Heaven Part1 as well as Please Be Happy. Watamari – A Match Made in Heaven is the first part in a series of visual novels from developer Kuroirodoru Yomiji who most will know for the Ne no Kami: The Two Princess Knights of Kyoto series. Kuroirodoru Yomiji has pulled out all the stops on their first new release since 2017 from the gorgeous visuals, Live2D animation and even a live-action commercial to promote Watamari – A Made Made in Heaven Part1. But most importantly:
Please Be Happy is the much anticipated new release from Studio Élan, developers of Heart of the Woods and Highway Blossoms. Originally announced during KuroCon Vol. 1 in 2020, Please Be Happy is set in a fictional version of Wellington, New Zealand where the fox girl, Miho, searches for the traveler who had shown her kindness in the past. As with Studio Élan's previous releases, Please Be Happy is also notable for having an English voice cast. If you've enjoyed Studio Élan's previous releases, there's a lot to like with their latest release.
Among our releases, we had two big releases from madosoft in Raspberry Cube and Hamidashi Creative. Fans of Wagamama High Spec will certainly love the characters in both these releases. We're all big fans of this developer and are most certainly glad to release these on Steam. Whether it's Raspberry Cube's Satoru's hijinks when trying to do a good deed or two or the introvert, Tomohiro, who suddenly finds himself randomly selected to be student council president in a lottery, these are certainly fun stories for fans of madosoft. While both titles are currently only available in Chinese, we will have more details soon once English translation work has begun.
New Releases on GOG
When it comes to releasing games on Steam, we like to believe that we understand the ins and outs regarding content that is allowed on the platform. However, there have been times where that understanding has not worked in our favor which lead to 2 of the listed titles to be banned on Steam. The Seventh Sign -Mr. Sister- from Sweet & Tea (Developers of How to Raise a Wolf Girl) was originally announced back in 2019 and slated for release in 2020 before it was banned. Incidentally, it was because of what happened with The Seventh Sign -Mr.Sister- that we began to formulate internal guidelines as to what content would be deemed okay to be published on Steam.
As mentioned in last year's 2021 Year In Review post, Amatsutsumi from Purple Software (Developers of ChronoClock) was also announced back in 2019 and was intended for release in 2022 due to localization delays and difficulties dealing with programming related issues. As the Steam build is based on the script from the Japanese PlayStation Vita release, it seemed reasonable to understand that Amatsutsumi should clear Valve's review but unfortunately that was not the case. Amatsutsumi is not a short game by any stretch of the imagination and despite our attempts at an appeal on the grounds of the significant cost that was sunk in to the game's localization, Amatsutsumi's fate (on Steam) was sealed.
The concerns and frustrations from visual novel fans at Valve's actions are understandable. There is certainly room for more scrutiny especially after a certain high profile visual novel was banned then suddenly reinstated after a significant amount of public outcry. While there are users out there that have vowed to stay away from Steam and have given us praise to consider alternative platforms such as GOG, the reality of the situation is that Steam still draws in a far larger audience than GOG or any other platform can hope to bring in. While we may disagree with what has happened with our games, Steam will still continue to be our focus moving forward.
New Releases on Console
While we didn't have a lot of console releases this year, we had a couple new releases from Cosen (My Little Kitties, My Girlfriend is a Mermaid!?) in My Girlfriend is a Mermaid!? Refine and The Fox Awaits Me. Technically, My Girlfriend is a Mermaid!? Refine isn't a new title per se, but this release on the PlayStation 4 features a number of improvements and enhancements over both the Nintendo Switch and Steam (which isn't released by Sekai Project) versions so it was worth mentioning. Both titles are also adaptations of Korean light novels and are certainly a recommendation for users who like dramatic stories with doses of humor mixed in-between.
Other console releases include the PlayStation 4 releases of InvertMouse's Clea and Clea 2 as well as the EU release of Heart of the Woods on PlayStation 5. All three of these titles were previously released on console but due to some internal snafus, they weren't fully released on PlayStation 4 (or 5) at the time.
No mention of console releases isn't without news from our friends over at Limited Run Games. This year, we collaborated with them to release not one but two physical releases. First up was Mr. Tired Media's Undead Darlings ~no cure for love~ and InvertMouse's Clea Complete Collection which features both Clea  and Clea 2 on one package. Were you able to get in on either releases? There's a lot more titles we hope to see on physical so we look forward to working with Limited Run Games in 2023 as well.
Crowdfunding Updates
While the logistical delays due to the COVID pandemic has mostly subsided, we were able to finish the ChronoClock Kickstarter campaign and are nearly done with the WORLD END ECONOMiCA Kickstarter campaign. With ChronoClock, there were some issues with the printing of the artbook which took much longer to resolve. Currently, there are no plans to make available the physical release of ChronoClock or the artbook but if there's enough interest then maybe we will consider that possibility. With WORLD END ECONOMiCA, we were finally able to put the finishing touches on the Official Guidebook which is also digitally available on Steam. In order to avoid possible delays and disruptions during the holidays, printing and fulfillment of the Official Guidebook will begin in January 2023.
While we weren't able to finish up any other campaigns this year, we made some major inroads in two of our campaigns for the A Clockwork Ley-Line and Hoshizora no Memoria series. It's been a long road, but the A Clockwork Ley-Line trilogy is now officially complete! Fans waiting to continue the story of Koga Michiru and his classmates at Libra Lapis Lazuli Private Academy no longer have to wait to get to the conclusion of the story. With the games now finished, work is continuing to update the engine of the first game, A Clockwork Ley-Line: The Borderline of Dusk as well as typesetting on the Trilogy Official Design Works. Translation of the light novel will be starting soon and once that is done, printing can begin on the remaining physical rewards for this campaign.
Hoshizora no Memoria Eternal Heart would have likely come out a bit earlier but with Favorite's announcement of HD versions for both games, additional work was needed to integrate the new HD assets in both games. With work on Eternal Heart HD done, our focus shifts back to getting the HD remake of Hoshizora no Memoria finished up. Once that is done, work will begin on getting the physicals printed and ready for fulfillment.
That's it on the major updates on our Kickstarter campaigns. More updates will be rolling on our remaining campaigns as soon as we have them. As always, we are still processing refunds for our campaigns as outlined in a previous news post. Should you need to request a refund, do not hesitate to submit a ticket to support.
We currently have no plans to launch any crowdfunding campaigns for 2023.
Final Thoughts
On May 7th, 2023, Sekai Project will be celebrating 10 years in operation. 10 years. Sounds crazy just to read that. If you told me back in 2013 that my business partner and I would be running our business for close to a decade, I'd probably think I was being punked. From our early days of trying to license doujin music to having one of the biggest publishers of visual novels in the West, it's sure been quite a journey. We're grateful to our hard working staff, freelancers and all our fans around the world. 2023 will certainly be interesting with a lot of notable releases and announcements in the works. It's thanks to you, the fan, who have given us the motivation and the energy to make it this far.
That's it for 2022! On behalf of everyone at Sekai Project, thank you again for making us a part of your world as we continue to bring the world's creativity to your door step.
Sincerely,
Christopher Ling
Co-Founder and CEO