Description
Developed by Dischan Media
THIS IS AN EARLY ACCESS GAME. Please read the descriptions below for more details.
Mahou Arms is an anime-inspired character-action hack and slash that tells the story of a magical girl paramilitary group fighting back against an alien invasion.
The human race is on the brink of total subjugation by the alien force known as the 'Locks.
GARDA, a global paramilitary organization has finally discovered the means to fight back: magical girls.
You are a commander at GARDA and a past prisoner of war. You must lead your small, ragtag group toward victory at all costs.
Get to know your newly recruited "soldiers" on the base and take direct control on the battlefield to reclaim Earth. Good luck, commander.
KEY FEATURES
Smooth Character Action Combat – Control a magical girl and fight with a variety of moves to take out your opponents!
A Gripping Story – Follow the struggle of GARDA and get to know the magical girls you command, along with a number of other characters!
Three Playable Magical Girls (PLANNED/COMING SOON) – Experience the unique movesets and playstyles!
Base Building & Socialization (PLANNED/COMING SOON) – Expand your base and get to know the characters and world of Mahou Arms!
Exciting Boss Battles (PLANNED/COMING SOON) – Fight unique bosses with interesting backstories!
Early Access information
Current Roadmap as of 5/1/2020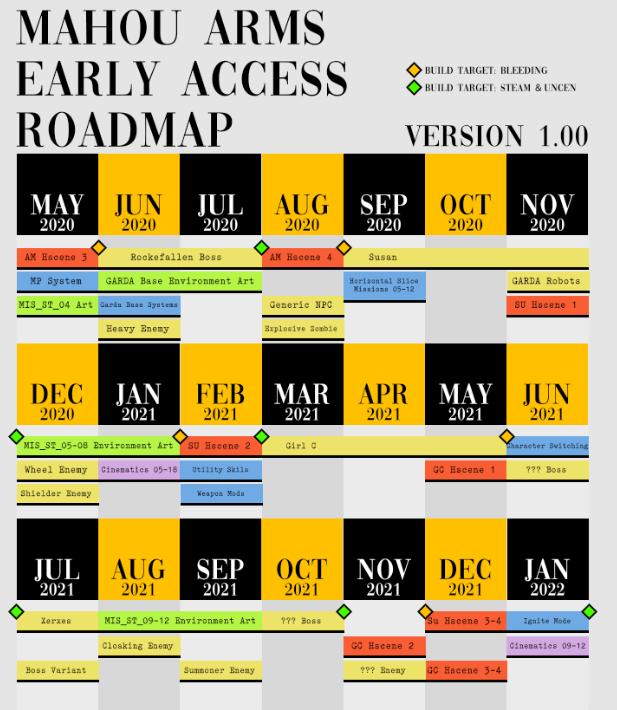 Why Early Access?
We are a small independent game developer and without support from those who wish to see Mahou Arms reach completion we are less likely to succeed.
By launching on Early Access, we hope players will try our game and support its development by sharing it with others and providing feedback. More support means more content faster.
Approximately how long will this game be in Early Access?
We've been working on Mahou Arms for around two years now (since 2018) and we expect it will take at least another two years (2022) before we have a game that we're satisfied with.
How is the full version planned to differ from the Early Access version?
We have plans to add more missions and more playable characters in the short term, as well as slower-paced GARDA base sections dedicated to getting to know the characters and world of Mahou Arms.
What is the current state of the Early Access version?
Right now there are two main story missions and a simple side mission. Amelia is the first playable character in the game and her moveset is complete.
It should be noted that all of the content in Mahou Arms is custom. This includes the models, animations, music, sound effects, etc.
Will the game be priced differently during and after Early Access?
Yes. During early access the Mahou Arms will be around 25% cheaper.
How are you planning on involving the Community in your development process?
We will monitor the Steam forums for feedback and bug reports, but we encourage players to join our Discord channel where we can communicate with them more directly: https://discord.gg/uc5Njsy